Associate Editor Anna Krylov has selected some outstanding research to share with you from Physical Chemistry Chemical Physics (PCCP). Read them now for free until the end of March 2020!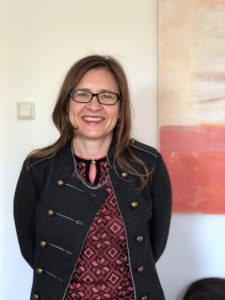 Anna Krylov is the Gabilan Distinguished Professor in Science and Engineering and a Professor of Chemistry at the University of Southern California. Her research is focused on theoretical modelling of open-shell and electronically excited species. She develops robust black-box methods to describe complicated multi-configurational wave functions in single-reference formalisms, the spin-flip approach, many-body theories for describing metastable electronic states, and tools for spectroscopy modelling. Using the tools of computational chemistry, and in collaboration with experimental laboratories, Krylov investigates the role that radicals and electronically excited species play in combustion, gas- and condensed-phase chemistry, solar energy, bioimaging, and quantum information science.
Submit your research to Anna here
Read Anna's choices for free now:
Paper
Considerable matrix shift in the electronic transitions of helium-solvated cesium dimer cation Cs2He +n
Lorenz Kranabetter, Nina K. Bersenkowitsch, Paul Martini, Michael Gatchell, Martin Kuhn, Felix Laimer, Arne Schiller, Martin K. Beyer, Milan Ončák and Paul Scheier
Phys. Chem. Chem. Phys., 2019, 21, 25362-25368. DOI: 10.1039/C9CP04790E
Paper
A Bayesian approach to NMR crystal structure determination
Edgar A. Engel, Andrea Anelli, Albert Hofstetter, Federico Paruzzo, Lyndon Emsley and Michele Ceriotti
Phys. Chem. Chem. Phys., 2019, 21, 23385-23400. DOI: 10.1039/ C9CP04489B
Paper
Asymptotic behavior of the Hartree-exchange and correlation potentials in ensemble density functional theory
Tim Gould, Stefano Pittalis, Julien Toulouse, Eli Kraisler and Leeor Kronik
Phys. Chem. Chem. Phys., 2019, 21, 19805-19815. DOI: 10.1039/C9CP03633D
Paper
Beyond the Coulson–Fischer point: characterizing single excitation CI and TDDFT for excited states in single bond dissociations
Diptarka Hait, Adam Rettig and Martin Head-Gordon
Phys. Chem. Chem. Phys., 2019, 21, 21761-21775. DOI: 10.1039/C9CP04452C
Paper
Metadynamics for automatic sampling of quantum property manifolds: exploration of molecular biradicality landscapes
Joachim O. Lindner and Merle I. S. Röhr
Phys. Chem. Chem. Phys., 2019, 21, 24716-24722. DOI: 10.1039/C9CP05182A
Paper
Multistate hybrid time-dependent density functional theory with surface hopping accurately captures ultrafast thymine photodeactivation
Shane M. Parker, Saswata Roy and Filipp Furche
Phys. Chem. Chem. Phys., 2019, 21, 18999-19010. DOI: 10.1039/C9CP03127H
We hope you enjoy reading the articles.