Associate Editor Kiyotaka Asakura has selected some outstanding research to share with you from Physical Chemistry Chemical Physics (PCCP). Read them now for free until the end of February 2020!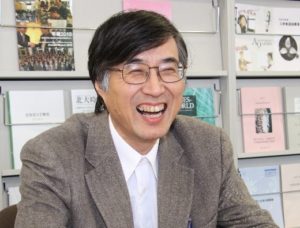 Professor Kiyotaka Asakura completed his undergraduate degree in chemistry at the University of Tokyo, Japan in 1981, and went on to complete his PhD at the same university in 1987. He subsequently moved to Germany as an Alexander von Humboldt fellow, Fritz-Haber-Instite, Berlin, then Assistant Professor, Lecturer and on to Associate Professor at the University of Tokyo, Japan. He is now Professor at the Institute for Catalysis (ICAT), Hokkaido University, Japan.
Professor Kiyotaka Asakura has expertise in X-ray spectroscopy, surface science, catalyst characterization, catalysis and microscopy.
Submit your research to Kiyotaka here
Read Kiyotaka's choices for free now:
Paper
Investigation on photocatalytic mechanism of graphitic SiC (g-SiC)/MoS2 van der Waals heterostructured photocatalysts for overall water splitting
Xu Gao, Yanqing Shen, Yanyan Ma, Shengyao Wu and Zhongxiang Zhou
Phys. Chem. Chem. Phys., 2019, 21, 15372-15379. DOI: 10.1039/C9CP02792K
Paper
The influence of support materials on the structural and electronic properties of gold nanoparticles – a DFT study
Julien Engel, Samantha Francis and Alberto Roldan
Phys. Chem. Chem. Phys., 2019, 21, 19011-19025. DOI: 10.1039/C9CP03066B
Paper
It's not just the defects – a curved crystal study of H2O desorption from Ag
Sabine V. Auras, Robert A. B. van Bree, Dima L. Bashlakov, Richard van Lent and Ludo B. F. Juurlink
Phys. Chem. Chem. Phys., 2019, 21, 15422-15430. DOI: 10.1039/C9CP02609F
Paper
Identification of active sites in CO oxidation over a Pd/Al2O3 catalyst
Kazumasa Murata, Eleen Eleeda, Junya Ohyama, Yuta Yamamoto, Shigeo Arai and Atsushi Satsuma
Phys. Chem. Chem. Phys., 2019, 21, 18128-18137. DOI: 10.1039/C9CP03943K
We hope you enjoy reading the articles.