We are delighted to announce that the Physical Chemistry Chemical Physics (PCCP) themed collection Photodissociation and reaction dynamics is now online and free to access until 1 October 2019.
Guest-edited by Andrew Orr-Ewing (University of Bristol), this themed issue highlights the latest research in the fundamental mechanisms of photochemical and chemical reactions in the gas and liquid phases, featuring both experimental and theoretical studies.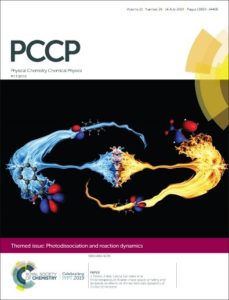 Read the full collection online
It includes:
Editorial
Photodissociation and reaction dynamics
Andrew J. Orr-Ewing
Phys. Chem. Chem. Phys., 2019, 21, 13878-13879. DOI: 10.1039/C9CP90164G
Perspective
Photoinduced C–H bond fission in prototypical organic molecules and radicals
Michael N. R. Ashfold, Rebecca A. Ingle, Tolga N. V. Karsili and Jingsong Zhang
Phys. Chem. Chem. Phys., 2019, 21, 13880-13901. DOI: 10.1039/C8CP07454B
Communication
Probing ultrafast dynamics during and after passing through conical intersections
Shunsuke Adachi, Tom Schatteburg, Alexander Humeniuk, Roland Mitrić and Toshinori Suzuki
Phys. Chem. Chem. Phys., 2019, 21, 13902-13905. DOI: 10.1039/C8CP04426K
Paper
Isotope-selective chemistry in the Be+(2S1/2) + HOD → BeOD+/BeOH+ + H/D reaction
Gary K. Chen, Changjian Xie, Tiangang Yang, Anyang Li, Arthur G. Suits, Eric R. Hudson, Wesley C. Campbell and Hua Guo
Phys. Chem. Chem. Phys., 2019, 21, 14005-14011. DOI: 10.1039/C8CP06690F
Paper
How reactant polarization can be used to change the effect of interference on reactive collisions
P. G. Jambrina, M. Menéndez, A. Zanchet, E. García and F. J. Aoiz
Phys. Chem. Chem. Phys., 2019, 21, 14012-14022. DOI: 10.1039/C8CP06892E
Paper
Competition between folded and extended structures of alanylalanine (Ala-Ala) in a molecular beam
Vasyl Yatsyna, Ranim Mallat, Tim Gorn, Michael Schmitt, Raimund Feifel, Anouk M. Rijs and Vitali Zhaunerchyk
Phys. Chem. Chem. Phys., 2019, 21, 14126-14132. DOI: 10.1039/C9CP00140A
We hope you enjoy reading the articles. Please get in touch (pccp-rsc (at) rsc.org) if you have any questions about this themed collection or PCCP.