We are delighted to welcome John Zhang as our newest Physical Chemistry Chemical Physics Associate Editor.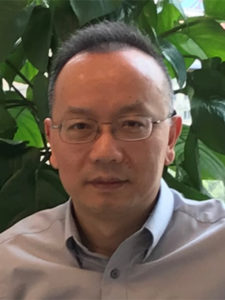 John Zhang, New York University Shanghai
ORCiD 0000-0003-4612-1863
John Zhang is professor of chemistry at New York University Shanghai and Director of NYU-ECNU Center for Computational Chemistry at NYU Shanghai. His current research focuses on protein structure and dynamics, fragment quantum chemistry study of biomolecules, polarizable force field, protein-ligand interaction, protein-protein interaction, ab initio molecular dynamics study of biomolecules and computational drug design.
Submit your best work to John now.
Read John's latest Papers in PCCP here:
BAR-based optimum adaptive sampling regime for variance minimization in alchemical transformation: the nonequilibrium stratification
Xiaohui Wang, Xingzhao Tu, John Z. H. Zhang and Zhaoxi Sun
Phys. Chem. Chem. Phys., 2018,20, 2009-2021. DOI: 10.1039/C7CP07573A
Direct folding simulation of helical proteins using an effective polarizable bond force field
Lili Duan, Tong Zhu, Changge Ji, Qinggang Zhang and John Z. H. Zhang
Phys. Chem. Chem. Phys., 2017,19, 15273-15284. DOI: 10.1039/C7CP02101A