David Rueda, Imperial College London, UK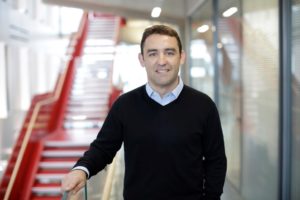 Having served on the Physical Chemistry Chemical Physics (PCCP) Editorial Board as Deputy Chair, David looks forward to his new role as Editorial Board Chair.
 
"It's an honour to Chair the Editorial Board of Physical Chemistry Chemical Physics in 2019.
 
"In this new role, I look forward to assisting the Editorial Board to maintain the high-quality standards of our journal."
 
Submit your best physical chemistry, chemical physics and biophysical chemistry research today.
David's research involves the development of quantitative single-molecule approaches to investigate the interactions between proteins and nucleic acids to elucidate the mechanism of complex biochemical reactions.
Find out more about David here or read his recent PCCP article:
Paper 
Reduced structural flexibility for an exonuclease deficient DNA polymerase III mutant
Hailey L. Gahlon, Alice R. Walker, G. Andrés Cisneros, Meindert H. Lamers and David S. Rueda
Phys. Chem. Chem. Phys., 2018, 20, 26892-26902. DOI: 10.1039/C8CP04112A
David has selected some of the most outstanding physical chemistry and chemical physics research from the past year to share with you. Read them now for free until the end of March 2019: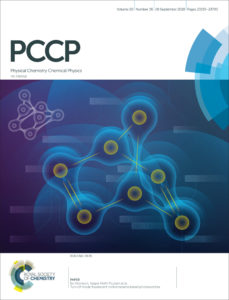 Paper
Consequences of Mg2+ binding on the geometry and stability of RNA base pairs
Antarip Halder, Rohit Roy, Dhananjay Bhattacharyya and Abhijit Mitra
Phys. Chem. Chem. Phys., 2018, 20, 21934-21948. DOI: 10.1039/C8CP03602K
Paper
Conformational changes of DNA induced by a trans-azobenzene derivative via non-covalent interactions
Hong Zhang, Haohao Fu, Xueguang Shao, Christophe Chipot, Antonio Monari, François Dehez and Wensheng Cai
Phys. Chem. Chem. Phys., 2018, 20, 22645-22651. DOI: 10.1039/C8CP03836H
 
Paper
Turn-off mode fluorescent norbornadiene-based photoswitches
Behabitu Ergette Tebikachew, Fredrik Edhborg, Nina Kann, Bo Albinsson and Kasper Moth-Poulsen
Phys. Chem. Chem. Phys., 2018, 20, 23195-23201. DOI: 10.1039/C8CP04329A
To keep up to date the latest physical chemistry and chemical physics research and other journal news, sign up to the e-alerts.