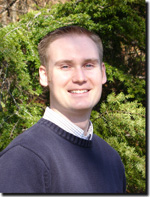 Nominations were open to all and were made by leading researchers from around the world. The nominee list was shortlisted by the Editorial Board prior to the Fall 2017 PCCP Editorial Board meeting, at which, Professor Ryan P. Steele, University of Utah was selected as the 2017 recipient.
Professor Steele's research focuses on in fundamental physical chemistry and problems in which unique electronic structure leads to interesting nuclear dynamics. He develops theoretical methods that efficiently interface accurate electronic structure theory with electronic and nuclear dynamics.
As part of the Lectureship, Professor Steele will be awarded a travel bursary of £1000 to attend and present at a leading international event in 2018, where he will be presented his Lectureship award. Professor Steele has also been invited to contribute a Perspective article to PCCP.
Many congratulations to Professor Steele on behalf of the PCCP Ownership Societies and Editorial Board.
Nominations for the 2018 PCCP Emerging Investigator Lectureship will open next summer. Keep up to date with latest journal news on the blog, Twitter, newsletter and e-TOC alerts.