PCCP recently sponsored the symposium "Chemical Bonding and Reactivity Spanning the Periodic Table: A Symposium in Honor of Roald Hoffmann", which was held at the 254th American Chemical Society meeting in Washington DC, August 20-24, 2017.
This symposium honored distinguished American Chemist and Nobel Prize winner, Prof. Hoffmann, who turned 80 years old this summer. Prof. Hoffmann has been influential in shaping the thinking of chemists working in a plethora of different fields – as evidenced by the talks given in the symposium by around 75 Hoffmann alumni, collaborators and friends, which showcased research in theoretical approaches to organic, organometallic, inorganic, biological and materials chemistry, as well as how matter responds to conditions of extreme external pressure.
Primarily experimental work was also featured in the symposium, and a historical lecture about Hoffmann's role in the development of the "Woodward-Hoffmann" rules was given. Many of the speakers also highlighted Hoffmann's role as a wonderful mentor, patient teacher and inspiring collaborator, as well as his artistic and humanistic endeavors.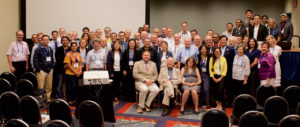 PCCP was delighted to be involved with the meeting, and support our authors in discussing and advance their fields by participating at the symposium.