Green fluorescent protein (GFP) is a luminescent protein with a central chromophore and is used in biological imaging. By modifying the chromophore itself or the protein environment, the photophysical properties can be fine-tuned, yet until recently this has not been well understood. However, Lars Andersen (Aarhus University) and his group have developed a laser-action spectroscopy technique to enable the chromophore to be studied in a vacuum. This has revealed that a single hydrogen bond initiated a 0.5eV shift in the absorption spectrum of the GFP chromophore and highlights the importance of understanding the biophysics of  chromophores and how this can help in the development of new colour chromophores.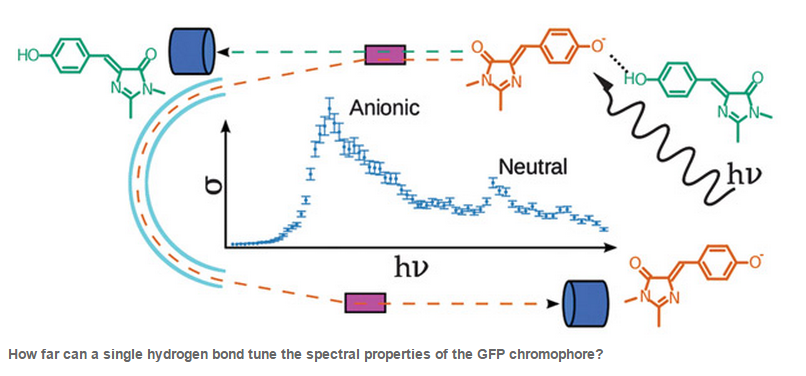 Interested to know more?
Read the full article in Chemistry World by Michaela Muehlberg.
Or, take a look at the original communication which is free to access until 6th August 2015:
How far can a single hydrogen bond tune the spectral properties of the GFP chromophore, H. Y. Kiefer et al., Phys. Chem. Chem. Phys., 2015, DOI: 10.1039/C5CP02764K