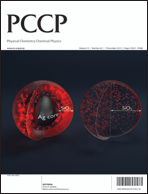 Physical Chemistry Chemical Physics (PCCP) is proud to be a Society journal and is co-owned by 18 national chemical societies, including the Canadian Society for Chemistry (CSC). The journal is published by the Royal Society of Chemistry on a not-for-profit basis for the benefit of the whole scientific community.
Did you know that owner Societies receive a royalty every time the journal publishes an article by a researcher based in the Owner Society's country?
PCCP is committed to publishing the best Canadian research in the broad fields of physical chemistry, chemical physics and biophysical chemistry. We have leading Canadian scientists on our international Advisory, Honorary and Ownership Boards: John Polanyi, Roman Krems, Ruth Signorell and Bruce Lennox.
On behalf of all our Board Members we invite you to submit your best work to PCCP.
Why publish in PCCP?
Large community-spanning international readership
Very efficient, rigorous and fair peer review procedure
High impact factor: 3.83
No author page charges
No colour charges
So you can see for yourself the quality of work appearing in PCCP, we have collected together some recently published articles from authors based in Canada, with a selection available to read for free for a limited period.
Perspectives:
FREE: Organic n-type materials for charge transport and charge storage applications
Monika Stolar and Thomas Baumgartner
DOI: 10.1039/C3CP51379C
FREE: Adsorption of DNA onto gold nanoparticles and graphene oxide: surface science and applications
Juewen Liu
DOI: 10.1039/C2CP41186E
FREE: Computational methodologies and physical insights into electronic energy transfer in photosynthetic light-harvesting complexes
Leonardo A. Pachón and Paul Brumer
DOI: 10.1039/C2CP40815E
FREE: Plasmon enhanced spectroscopy
Ricardo F. Aroca
DOI: 10.1039/C3CP44103B
FREE: A critical perspective on molecular electronic junctions: there is plenty of room in the middle
Richard L. McCreery, Haijun Yan and Adam Johan Bergren
DOI: 10.1039/C2CP43516K
Original research:
FREE: Anharmonic vibrations of the carboxyl group in acetic acid on TiO2: implications for adsorption mode assignment in dye-sensitized solar cells
Matthew Chan, Tucker Carrington and Sergei Manzhos
DOI: 10.1039/C3CP00065F
FREE: Sodium-doping as a reference to study the influence of intracluster chemistry on the fragmentation of weakly-bound clusters upon vacuum ultraviolet photoionization
Jessica H. Litman, Bruce L. Yoder, Bernhard Schläppi and Ruth Signorell
DOI: 10.1039/C2CP43098C
FREE: Unraveling the internal dynamics of the benzene dimer: a combined theoretical and microwave spectroscopy study
Melanie Schnell, Undine Erlekam, P. R. Bunker, Gert von Helden, Jens-Uwe Grabow, Gerard Meijer and Ad van der Avoird
DOI: 10.1039/C3CP51181B
FREE: pH in atomic scale simulations of electrochemical interfaces
Jan Rossmeisl, Karen Chan, Rizwan Ahmed, Vladimir Tripković and Mårten E. Björketun
DOI: 10.1039/C3CP51083B
FREE: Quantitative investigations of quantum coherence for a light-harvesting protein at conditions simulating photosynthesis
Daniel B. Turner, Rayomond Dinshaw, Kyung-Koo Lee, Michael S. Belsley, Krystyna E. Wilk, Paul M. G. Curmi and Gregory D. Scholes
DOI: 10.1039/C2CP23670B
FREE: Solvatochromic investigation of highly fluorescent 2-aminobithiophene derivatives
Andréanne Bolduc, Yanmei Dong, Amélie Guérin and W. G. Skene
DOI: 10.1039/C2CP40293A
FREE: Vibrational cooling, heating, and instability in molecular conducting junctions: full counting statistics analysis
Lena Simine and Dvira Segal
DOI: 10.1039/C2CP40851A