We would like to share with you a selection of recent articles published in the Royal Society of Chemistry journals Energy & Environmental Science (EES), Nanoscale and Physical Chemistry Chemical Physics (PCCP) in the area of biotechnology.
You can read these articles for free for a limited period by clicking on the links below.
EES, Nanoscale and PCCP are high-impact journals published on a not-for-profit ethos for the benefit of the wider scientific community.
Sign up to receive the latest news from your favourite journals.
---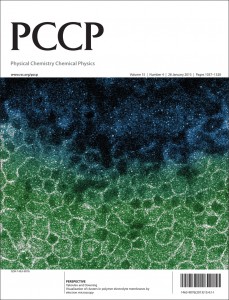 PCCP is committed to publishing the best research across physical chemistry, chemical physics and biophysical chemistry.
FREE: Miniaturized biological and electrochemical fuel cells: challenges and applications
Jie Yang, Sasan Ghobadian, Payton J. Goodrich, Reza Montazami and Nastaran Hashemi
DOI: 10.1039/C3CP50804H, Perspective
FREE: Plasmonic fluorescence enhancement by metal nanostructures: shaping the future of bionanotechnology
Daniel Darvill, Anthony Centeno and Fang Xie
DOI: 10.1039/C3CP50415H, Perspective
FREE: Construction of biomimetic smart nanochannels with polymer membranes and application in energy conversion systems
Liping Wen, Ye Tian, Jie Ma, Jin Zhai and Lei Jiang
DOI: 10.1039/C2CP23911F, Perspective
FREE: Encapsulation of actives for sustained release
Markus Andersson Trojer, Lars Nordstierna, Matias Nordin, Magnus Nydén and Krister Holmberg
DOI: 10.1039/C3CP52686K, Perspective
FREE: Mussel inspired surface functionalization of electrospun nanofibers for bio-applications
Søren Roesgaard Nielsen, Flemming Besenbacher and Menglin Chen
DOI: 10.1039/C3CP52651H, Perspective
FREE: Physics and engineering of peptide supramolecular nanostructures
Amir Handelman, Peter Beker, Nadav Amdursky and Gil Rosenman
DOI: 10.1039/C2CP40157F, Perspective
FREE: A pacemaker powered by an implantable biofuel cell operating under conditions mimicking the human blood circulatory system – battery not included
Mark Southcott, Kevin MacVittie, Jan Halámek, Lenka Halámková, William D. Jemison, Robert Lobel and Evgeny Katz
DOI: 10.1039/C3CP50929J, Paper
FREE: A novel three-dimensional macrocellular carbonaceous biofuel cell
Victoria Flexer, Nicolas Brun, Mathieu Destribats, Rénal Backov and Nicolas Mano
DOI: 10.1039/C3CP50807B, Pape
FREE: In situ fluorescence and electrochemical monitoring of a photosynthetic microbial fuel cell
Alister E. Inglesby, Kamran Yunus and Adrian C. Fisher
DOI: 10.1039/C3CP51076J, Paper
FREE: Surface morphology and surface energy of anode materials influence power outputs in a multi-channel mediatorless bio-photovoltaic (BPV) system
Paolo Bombelli, Marie Zarrouati, Rebecca J. Thorne, Kenneth Schneider, Stephen J. L. Rowden, Akin Ali, Kamran Yunus, Petra J. Cameron, Adrian C. Fisher, D. Ian Wilson, Christopher J. Howe and Alistair J. McCormick
DOI: 10.1039/C2CP42526B, Paper
---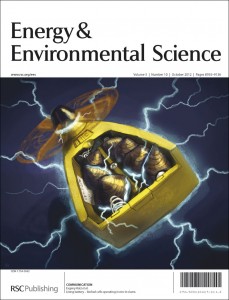 With an Impact Factor of 11.65, which is rising fast, 
EES
is the ideal place to publish your research.
FREE: The role of biofuels in the future energy supply
Luis Caspeta, Nicolaas A. A. Buijs and Jens Nielsen
DOI: 10.1039/C3EE24403B, Opinion
FREE: Implanted biofuel cells operating in vivo – methods, applications and perspectives – feature article
Evgeny Katz and Kevin MacVittie
DOI: 10.1039/C3EE42126K, Opinion
FREE: Enzymes and bio-inspired electrocatalysts in solar fuel devices
Thomas W. Woolerton, Sally Sheard, Yatendra S. Chaudhary and Fraser A. Armstrong
DOI: 10.1039/C2EE21471G, Perspective
FREE: From biodiesel and bioethanol to liquid hydrocarbon fuels: new hydrotreating and advanced microbial technologies
Juan Carlos Serrano-Ruiz, Enrique V. Ramos-Fernández and Antonio Sepúlveda-Escribano
DOI: 10.1039/C1EE02418C, Perspective
FREE: Immobilization technology: a sustainable solution for biofuel cell design
Xiao-Yu Yang, Ge Tian, Nan Jiang and Bao-Lian Su
DOI: 10.1039/C1EE02391H, Review Article
FREE: Oxygen-tolerant coenzyme A-acylating aldehyde dehydrogenase facilitates efficient photosynthetic n-butanol biosynthesis in cyanobacteria
Ethan I. Lan, Soo Y. Ro and James C. Liao
DOI: 10.1039/C3EE41405A, Paper
FREE: Engineered yeast for enhanced CO2 mineralization
Roberto Barbero, Lino Carnelli, Anna Simon, Albert Kao, Alessandra d'Arminio Monforte, Moreno Riccò, Daniele Bianchi and Angela Belcher
DOI: 10.1039/C2EE24060B, Paper
FREE: Layered corrugated electrode macrostructures boost microbial bioelectrocatalysis
Shuiliang Chen, Guanghua He, Qin Liu, Falk Harnisch, Yan Zhou, Yu Chen, Muddasir Hanif, Suqin Wang, Xinwen Peng, Haoqing Hou and Uwe Schröder
DOI: 10.1039/C2EE23344D, Communication
FREE: An extremely radioresistant green eukaryote for radionuclide bio-decontamination in the nuclear industry
Corinne Rivasseau, Emmanuel Farhi, Ariane Atteia, Alain Couté, Marina Gromova, Diane de Gouvion Saint Cyr, Anne-Marie Boisson, Anne-Sophie Féret, Estelle Compagnon and Richard Bligny
DOI: 10.1039/C2EE23129H, Paper
FREE: Living battery – biofuel cells operating in vivo in clams
Alon Szczupak, Jan Halámek, Lenka Halámková, Vera Bocharova, Lital Alfonta and Evgeny Katz
DOI: 10.1039/C2EE21626D, Communication
---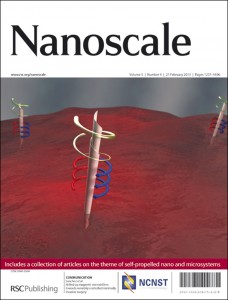 Nanoscale publishes community-spanning research across the fields of nanoscience and nanotechnology. Its Impact Factor is currently 6.23.
FREE: The interplay between carbon nanomaterials and amyloid fibrils in bio-nanotechnology
Chaoxu Li and Raffaele Mezzenga
DOI: 10.1039/C3NR01644G, Review Article
FREE: Lanthanide-doped luminescent nano-bioprobes: from fundamentals to biodetection
Yongsheng Liu, Datao Tu, Haomiao Zhu, En Ma and Xueyuan Chen
DOI: 10.1039/C2NR33239F, Feature Article
FREE: Cholesterol – a biological compound as a building block in bionanotechnology
Leticia Hosta-Rigau, Yan Zhang, Boon M. Teo, Almar Postma and Brigitte Städler
DOI: 10.1039/C2NR32923A, Feature Article
FREE: Plant mediated green synthesis: modified approaches
Ratul Kumar Das and Satinder Kaur Brar
DOI: 10.1039/C3NR02548A, Minireview
FREE: Graphene: a versatile nanoplatform for biomedical applications
Yin Zhang, Tapas R. Nayak, Hao Hong and Weibo Cai
DOI: 10.1039/C2NR31040F, Review Article
FREE: Nanocellulose electroconductive composites
Zhijun Shi, Glyn O. Phillips and Guang Yang
DOI: 10.1039/C3NR00408B, Minireview
FREE: Recombinant antibody mediated delivery of organelle-specific DNA pH sensors along endocytic pathways.
Yamuna Krishnan, Souvik Modi, Saheli Halder and Clément Nizak
DOI: 10.1039/C3NR03769J, Paper
FREE: Multi-enzyme Co-Embedded Organic-Inorganic Hybrid Nanoflowers: Synthesis and Application in Colorimetric Sensor
Jiayu Sun, Jiechao Ge, Weimin Liu, Minhuan Lan, Hongyan Zhang, Pengfei Wang, Yanming Wang and Zhongwei Niu
DOI: 10.1039/C3NR04425D, Paper
FREE: An unusual pathway for the membrane wrapping of rodlike nanoparticles and the orientation- and membrane wrapping-dependent nanoparticle interaction
Tongtao Yue, Xiaojuan Wang, Fang Huang and Xianren Zhang
DOI: 10.1039/C3NR02683C, Paper
FREE: Flash photo stimulation of human neural stem cells on graphene/TiO2 heterojunction for differentiation into neurons
Omid Akhavan and Elham Ghaderi
DOI: 10.1039/C3NR02161K, Paper
FREE: Bio-nanohybrids of quantum dots and photoproteins facilitating strong nonradiative energy transfer
Urartu Ozgur Safak Seker, Evren Mutlugun, Pedro Ludwig Hernandez-Martinez, Vijay K. Sharma, Vladimir Lesnyak, Nikolai Gaponik, Alexander Eychmüller and Hilmi Volkan Demir
DOI: 10.1039/C3NR01417G, Paper
FREE: A methodology for preparing nanostructured biomolecular interfaces with high enzymatic activity
Lu Shin Wong, Chinnan V. Karthikeyan, Daniel J. Eichelsdoerfer, Jason Micklefield and Chad A. Mirkin
DOI: 10.1039/C1NR11443C, Paper