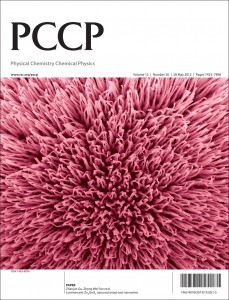 We invite you to join us for a joint PCCP–UCL symposium on Tuesday 15th October 2013.
Following a welcome by Professor Helen Fielding and brief introduction of PCCP by Editor Philip Earis, the following international speakers, including members of the journal's Editorial Board, will talk about some of their exciting research:
14:10
Katsuhiko Ariga, NIMS, Japan
Manual nanotechnology: a new page in the nanotechnology manual
14:40
Cyrus Hirjibehedin, London Centre for Nanotechnology
Tunable single molecule magnetoresistance driven by magnetically sensitive negative differential resistance
15:10
Gaoquan Shi, Tsinghua University, China
Graphene based electrochemical devices
15:50
Daniela Goldfarb, Weizmann Institute of Science, Israel
Gd3+ spin labeling for structural interrogation of biomolecules
16:20
David Rueda, Imperial College London
Watching AID scan ssDNA and transcribed dsDNA with single molecule resolution
Location: Chemistry Lecture Theatre, Department of Chemistry, UCL, 20 Gordon Street, London WC1H 0AJ.
No registration necessary.
**** The lectures will be followed with a wine reception ****