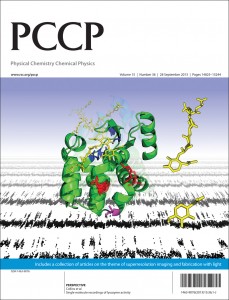 PCCP is delighted to present its current issue which includes an excellent collection of articles on the theme of Superresolution imaging and fabrication with light, Guest Edited by Françisco M. Raymo. Read his Perspective article to find out more about some of the latest developments in this exciting field.
The outside front cover features a Single molecule recordings of lysozyme activity article by Yongki Choi, Gregory A. Weiss and Philip G. Collins.
Highlights of this issue include:
Activation of BODIPY fluorescence by the photoinduced dealkylation of a pyridinium quencher
Sherif Shaban Ragab, Subramani Swaminathan, James D. Baker and Françisco M. Raymo
Understanding super-resolution nanoscopy and its biological applications in cell imaging
Dehong Hu, Baoming Zhao, Yumei Xie, Galya Orr and Alexander D. Q. Li     
Radical diffusion limits to photoinhibited superresolution lithography
Darren L. Forman, Michael C. Cole and Robert R. McLeod  
Determination of two-photon photoactivation rates of fluorescent proteins
Tobias M. P. Hartwich, Fedor V. Subach, Lynn Cooley, Vladislav V. Verkhusha and Joerg Bewersdorf  
Sensitized excited free-radical processes as read–write tools: impact on non-linear lithographic processes
Stefania Impellizzeri, Kevin G. Stamplecoskie and Juan. C. Scaiano
Keep up to date with the latest PCCP articles and news: sign up to receive our free table of contents e-alerts and follow us on twitter.