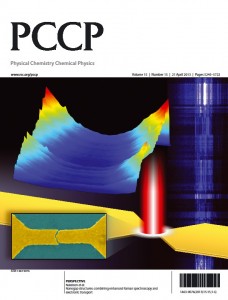 We are delighted to announce that the PCCP themed collection on Plasmonics and spectroscopy now been published online – take a look today!
The themed collection was Guest Edited by Pablo G. Etchegoin – read his Editorial for this issue.
The outside front cover features a perspective article on Nanogap structures: combining enhanced Raman spectroscopy and electronic transport by Douglas Natelson, Yajing Li and Joseph B. Herzog.
Plasmonics and spectroscopy themed collection features a broad range of Papers and Communications and includes the following Perspective articles:
Single-molecule surface-enhanced Raman spectroscopy: a perspective on the current status
Hae Mi Lee, Seung Min Jin, Hyung Min Kim and Yung Doug Suh
DOI: 10.1039/C3CP44463E

Towards low-cost flexible substrates for nanoplasmonic sensing
Lakshminarayana Polavarapu and Luis M. Liz-Marzán
DOI: 10.1039/C2CP43642F

Persistent misconceptions regarding SERS
Martin Moskovits
DOI: 10.1039/C2CP44030J

Recent developments and future directions in SERS for bioanalysis
Mhairi M. Harper, Kristy S. McKeating and Karen Faulds
DOI: 10.1039/C2CP43859C

Medical applications of surface-enhanced Raman scattering
Wei Xie and Sebastian Schlücker
DOI: 10.1039/C3CP43858A

Super-resolution imaging of interactions between molecules and plasmonic nanostructures
Katherine A. Willets
DOI: 10.1039/C3CP43882A

Plasmon enhanced spectroscopy
Ricardo F. Aroca
DOI: 10.1039/C3CP44103B