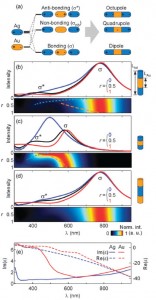 The plasmons of bimetallic nanorods appear by cursory inspection to be independent of the composition! Pure gold, silver-gold-silver, pure silver, it matters not.
The ratio (length) of the nanorod, which is gold, can be varied from 0 nm to 200 nm in the 200 nm long nanorods, without changing the shape or position of the plasmonic bands. It happens to be coincidental that 200 nm long rods give this result, as the dielectric function of silver and gold are similar at the energies the plasmonic resonances are found at in 200 nm long nanorods.
A team of Korean scientist have been investigating mixed-metal nanorods, either 100 nm or 200 nm long. They find that the interfaces between the metals have little effect on the plasmonic resonances in the system. The single most important factor is the match of the dielectric function for the two metals, if the functions match the composition of the metal nanorod can be varied without any effect in the plasmons. A very interesting conclusion.
by Dr Thomas Just Sørensen
For the full details of this exciting article see:
Localized plasmon resonances of bimetallic AgAuAg nanorods
Sung-Hyun Ahn, Deok-Soo Kim, Daeha Seo, Wonjun Choi, Gi-Ra Yi, Hyunjoon Song, Q-Han Park and Zee Hwan Kim
DOI: 10.1039/C2CP43365F
This article is part of the PCCP themed collection on Optical studies of single metal nanoparticles. Check out the rest of the articles today.