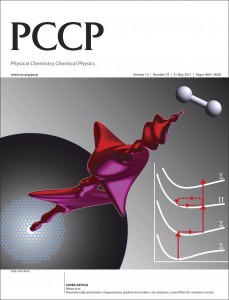 Physical Chemistry Chemical Physics (PCCP) Associate Editor Professor Seong Keun Kim, an expert in the field of biophysics and biophysical chemistry, has picked some of his favourite articles recently published in this area in PCCP.
You can read these articles for free for a limited period by clicking on the links below.
Publishing work of the highest quality in the broad fields of physical chemistry, chemical physics and biophysical chemistry, PCCP is the ideal place to publish your research.
Be among the first to hear about the newest articles being published in PCCP – sign up to receive our free table of contents e-alerts.
Read Professor Kim's Editor's choice selection for free today:
Perspectives
Mitochondrial biofuel cells: expanding fuel diversity to amino acids
Dushyant Bhatnagar, Shuai Xu, Caitlin Fischer, Robert L. Arechederra and Shelley D. Minteer
DOI: 10.1039/C0CP01362E
Design and development of quantum dots and other nanoparticles based cellular imaging probe
Nikhil R. Jana
DOI: 10.1039/C0CP00726A
Seeing the forest for the trees: fluorescence studies of single enzymes in the context of ensemble experiments
Yan-Wen Tan and Haw Yang
DOI: 10.1039/C0CP02412K
Optical imaging of excited-state tautomerization in single molecules
Anna M. Chizhik, Regina Jäger, Alexey I. Chizhik, Sebastian Bär, Hans-Georg Mack, Marcus Sackrow, Catrinel Stanciu, Alexey Lyubimtsev, Michael Hanack and Alfred J. Meixner
DOI: 10.1039/C0CP02228D
Physics of protein–DNA interactions: mechanisms of facilitated target search
Anatoly B. Kolomeisky
DOI: 10.1039/C0CP01966F
Revealing time bunching effect in single-molecule enzyme conformational dynamics
H. Peter Lu
DOI: 10.1039/C0CP02860F
Combining optical trapping, fluorescence microscopy and micro-fluidics for single molecule studies of DNA–protein interactions
Andrea Candelli, Gijs J. L. Wuite and Erwin J. G. Peterman
DOI: 10.1039/C0CP02844D
Electrostatic interactions in biological DNA-related systems
A. G. Cherstvy
DOI: 10.1039/C0CP02796K
Original research
Effects of all-atom force fields on amyloid oligomerization: replica exchange molecular dynamics simulations of the Aβ16–22 dimer and trimer
Phuong H. Nguyen, Mai Suan Li and Philippe Derreumaux
DOI: 10.1039/C1CP20323A
Solvent-assisted conformational isomerization and the conformationally-pure REMPI spectrum of 3-aminophenol
Woon Yong Sohn, Minho Kim, Sang-Su Kim, Young Dong Park and Hyuk Kang
DOI: 10.1039/C0CP02592E
Free energy evaluation of the p53-Mdm2 complex from unbinding work measured by dynamic force spectroscopy
Anna Rita Bizzarri and Salvatore Cannistraro
DOI: 10.1039/C0CP01474E
2D IR photon echo of azido-probes for biomolecular dynamics
Matthew J. Tucker, Xin Sonia Gai, Edward E. Fenlon, Scott H. Brewer and Robin M. Hochstrasser
DOI: 10.1039/C0CP01625J
On the different roles of anions and cations in the solvation of enzymes in ionic liquids
Marco Klähn, Geraldine S. Lim, Abirami Seduraman and Ping Wu
DOI: 10.1039/C0CP01509A
Selective transport of amino acids into the gas phase: driving forces for amino acid solubilization in gas-phase reverse micelles
Yigang Fang, Andrew Bennett and Jianbo Liu
DOI: 10.1039/C0CP00823K
Extracting the underlying effective free energy landscape from single-molecule time series—local equilibrium states and their network
Akinori Baba and Tamiki Komatsuzaki
DOI: 10.1039/C0CP00694G
On the role of mercury in the non-covalent stabilisation of consecutive U–HgII–U metal-mediated nucleic acid base pairs: metallophilic attraction enters the world of nucleic acids
Ladislav Benda, Michal Straka, Yoshiyuki Tanaka and Vladimír Sychrovský
DOI: 10.1039/C0CP01534B
Making gold nanoparticles fluorescent for simultaneous absorption and fluorescence detection on the single particle level
Alexander Gaiduk, Paul V. Ruijgrok, Mustafa Yorulmaz and Michel Orrit
DOI: 10.1039/C0CP01389G
Photoblinking and photobleaching of rylene diimide dyes
Mathias Haase, Christian G. Hübner, Fabian Nolde, Klaus Müllen and Thomas Basché
DOI: 10.1039/C0CP01814G
Single particle tracking in systems showing anomalous diffusion: the role of weak ergodicity breaking
Stas Burov, Jae-Hyung Jeon, Ralf Metzler and Eli Barkai
DOI: 10.1039/C0CP01879A
Unfolding dynamics of cytochrome c revealed by single-molecule and ensemble-averaged spectroscopy
Jungkweon Choi, Sooyeon Kim, Takashi Tachikawa, Mamoru Fujitsuka and Tetsuro Majima
DOI: 10.1039/C0CP02689A
Photoinduced pH drops in water
Matthieu Emond, Jing Sun, Jean Grégoire, Sylvie Maurin, Christophe Tribet and Ludovic Jullien
DOI: 10.1039/C0CP02464C
Mechanisms and advancement of antifading agents for fluorescence microscopy and single-molecule spectroscopy
Thorben Cordes, Andreas Maiser, Christian Steinhauer, Lothar Schermelleh and Philip Tinnefeld
DOI: 10.1039/C0CP01919D
Nanoscale chemical imaging of segregated lipid domains using tip-enhanced Raman spectroscopy
Lothar Opilik, Thomas Bauer, Thomas Schmid, Johannes Stadler and Renato Zenobi
DOI: 10.1039/C0CP02832K