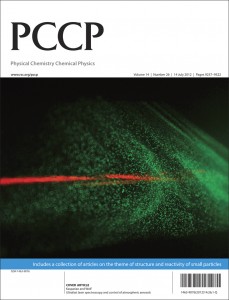 Physical Chemistry Chemical Physics (PCCP) Advisory Board member Professor Elangannan Arunan, an expert in the field of bonding, reaction kinetics and dynamics, has picked his favourite articles recently published in this area in PCCP.
You can read these articles for free for a limited period by clicking on the links below.
Publishing work of the highest quality in the broad fields of physical chemistry, chemical physics and biophysical chemistry, PCCP is the ideal place to publish your research.
Be among the first to hear about the newest articles being published in PCCP – sign up to receive our free table of contents e-alerts.
On behalf of the Editorial Board we invite you to submit your best work to PCCP.
Read Professor Arunan's Editor's choice selection for free today:
Perspectives
The role of weak hydrogen bonds in chiral recognition
Debora Scuderi, Katia Le Barbu-Debus and A. Zehnacker
DOI: 10.1039/C1CP20987F
Proton transfer and polarity changes in ionic liquid–water mixtures: a perspective on hydrogen bonds from ab initio molecular dynamics at the example of 1-ethyl-3-methylimidazolium acetate–water mixtures—Part 1
Martin Brehm, Henry Weber, Alfonso S. Pensado, Annegret Stark and Barbara Kirchner
DOI: 10.1039/C2CP23983C
Original research
Molecular geometries of H2S ICF3 and H2O ICF3 characterised by broadband rotational spectroscopy
Susanna L. Stephens, Nicholas R. Walker and Anthony C. Legon
DOI: 10.1039/C1CP22339A
Infrared spectra of the protonated neurotransmitter histamine: competition between imidazolium and ammonium isomers in the gas phase
Anita Lagutschenkov, Judith Langer, Giel Berden, Jos Oomens and Otto Dopfer
DOI: 10.1039/C1CP21681C
A π-stacked phenylacetylene dimer
Surajit Maity, G. Naresh Patwari, Robert Sedlak and Pavel Hobza
DOI: 10.1039/C1CP20677J
Experimentally measured permanent dipoles induced by hydrogen bonding. The Stark spectrum of indole–NH3
Adam J. Fleisher, Justin W. Young and David W. Pratt
DOI: 10.1039/C2CP23902G
Infrared spectrum of the 2-chloroethyl radical in solid para-hydrogen
Jay C. Amicangelo, Barbara Golec, Mohammed Bahou and Yuan-Pern Lee
DOI: 10.1039/C1CP22524C
Experimental and modeling study of carbon suboxide decomposition behind reflected shock waves
M. Aghsaee, H. Böhm, S. H. Dürrstein, M. Fikri and C. Schulz
DOI: 10.1039/C1CP22044F
Exploring microsolvation of the anesthetic propofol
Iker Leon, Emilio J. Cocinero, Judith Millán, Sander Jaeqx, Anouk M. Rijs, Alberto Lesarri, Fernando Castaño and José A. Fernández
DOI: 10.1039/C2CP23583H
Low-temperature combustion chemistry of biofuels: pathways in the initial low-temperature (550 K–750 K) oxidation chemistry of isopentanol
Oliver Welz, Judit Zádor, John D. Savee, Martin Y. Ng, Giovanni Meloni, Ravi X. Fernandes, Leonid Sheps, Blake A. Simmons, Taek Soon Lee, David L. Osborn and Craig A. Taatjes
DOI: 10.1039/C2CP23248K
You can find many more excellent articles on our website.