PCCP is delighted to present issue 25 which includes a collection of articles on the theme of Hydrogen bonding in electronically excited states, Guest Edited by Guang-Jiu Zhao and Ke-Li Han (Dalian Institute of Chemical Physics, China).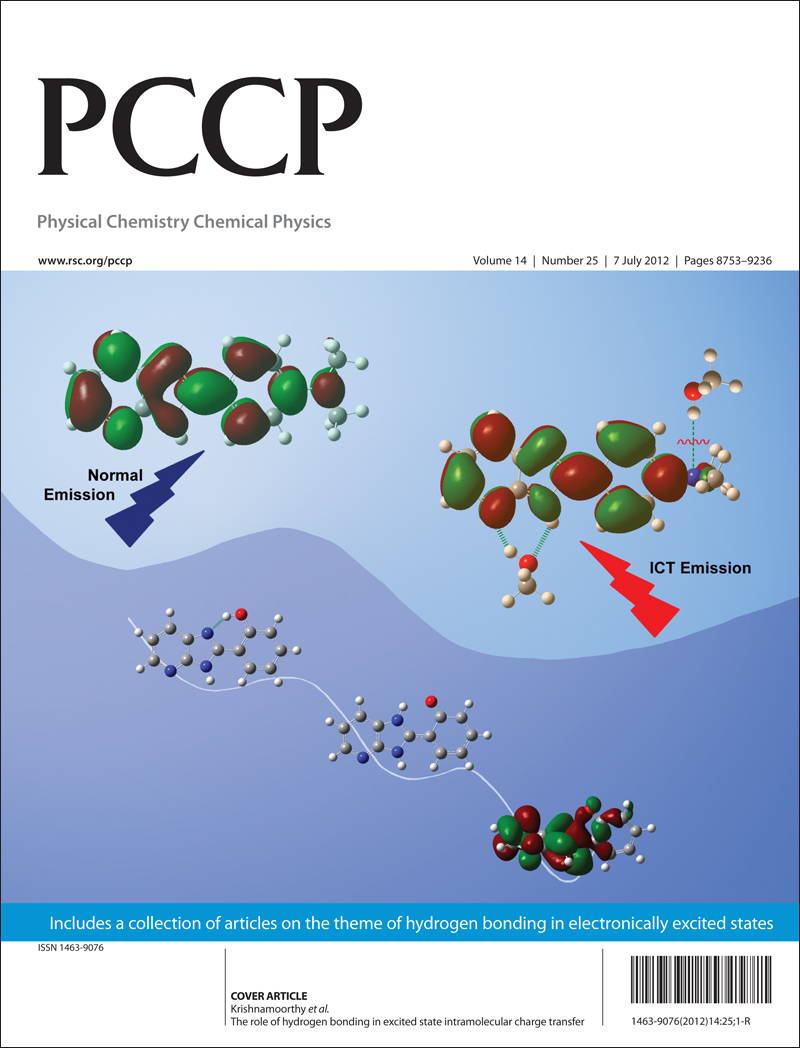 Hydrogen bonding has been recognized as an important interest in recent research due to its prevalence and fundamental importance in various branches of science in the past century.
To complement the 2011 PCCP themed issue on 'Weak Hydrogen Bonds – Strong Effects?', this themed issue will focus on hydrogen bonding in electronically excited states, which play an increasingly important role in many photo-physical processes and photochemical reactions.
The two cover images were provided by Krishnamoorthy and colleagues with the Perspective on excited state intramolecular charge transfer and Jeffrey Reimers and Zheng-Li Cai highlighting their Perspective on the hydrogen bonding and reactivity of water to azines.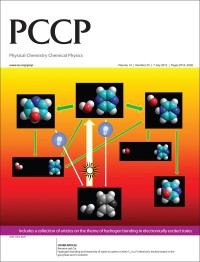 As well as high quality new research, the issue also contains a collection of high-profile Perspective review articles:
The role of hydrogen bonding in excited state intramolecular charge transfer
Francis A. S. Chipem, Anasuya Mishra and G. Krishnamoorthy
DOI: 10.1039/C2CP23879A
Hydrogen bonding and reactivity of water to azines in their S1 (n,π*) electronic excited states in the gas phase and in solution
Jeffrey R. Reimers and Zheng-Li Cai
DOI: 10.1039/C2CP24040H
Excited state intramolecular proton transfer (ESIPT): from principal photophysics to the development of new chromophores and applications in fluorescent molecular probes and luminescent materials
Jianzhang Zhao, Shaomin Ji, Yinghui Chen, Huimin Guo and Pei Yang
DOI: 10.1039/C2CP23144A
Excited state dynamics and catalytic mechanism of the light-driven enzyme protochlorophyllide oxidoreductase
Nigel S. Scrutton, Marie Louise Groot and Derren J. Heyes
DOI: 10.1039/C2CP23789J
Hydrogen bonding of excited states in supramolecular host–guest inclusion complexes
Brian D. Wagner
DOI: 10.1039/C2CP40310B