Then take a look at the high-profile series of PCCP themed issues in the fields of biophysics and biophysical chemistry.
The series contains issues on a variety of topics in this exciting multidisciplinary research area and highlights some of the great content PCCP publishes in this area.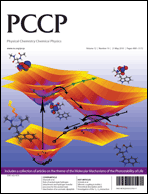 Take a look at the great issues today:
Also, look out for our forthcoming themed issue on Theoretical chemical physics of biological systems to be published in July 2012, Guest Edited by Carlo Adamo, Leif Eriksson, Maria Ramos, Nino Russo and Jesus Ugalde.
We encourage you to submit your next high quality paper in biophysics or biophysical chemistry to PCCP – submit to PCCP