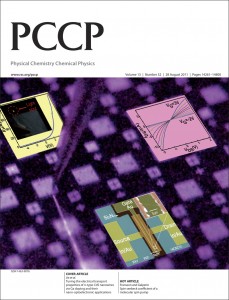 Physical Chemistry Chemical Physics (PCCP) Advisory Board member Professor Roman Krems, an expert in the field of ultracold molecules, has picked his favourite articles recently published in this area in PCCP.
Read Professor Krems' Editor's choice selection today:
A dipolar gas of ultracold molecules
K.-K. Ni, S. Ospelkaus, D. J. Nesbitt, J. Ye and D. S. Jin
DOI: 10.1039/B911779B
Cold heteromolecular dipolar collisions
Brian C. Sawyer, Benjamin K. Stuhl, Mark Yeo, Timur V. Tscherbul, Matthew T. Hummon, Yong Xia, Jacek Kłos, David Patterson, John M. Doyle and Jun Ye
DOI: 10.1039/C1CP21203F
Inelastic collisions of ultracold polar LiCs molecules with caesium atoms in an optical dipole trap
Johannes Deiglmayr, Marc Repp, Roland Wester, Olivier Dulieu and Matthias Weidemüller
DOI: 10.1039/C1CP21396B
Trapping cold molecular hydrogen
Ch. Seiler, S. D. Hogan and F. Merkt
DOI: 10.1039/C1CP21276A
Formation and dynamics of van der Waals molecules in buffer-gas traps
Nathan Brahms, Timur V. Tscherbul, Peng Zhang, Jacek Kłos, Robert C. Forrey, Yat Shan Au, H. R. Sadeghpour, A. Dalgarno, John M. Doyle and Thad G. Walker
DOI: 10.1039/C1CP21317B
Universal ultracold collision rates for polar molecules of two alkali-metal atoms
Paul S. Julienne, Thomas M. Hanna and Zbigniew Idziaszek
DOI: 10.1039/C1CP21270B
A bright, slow cryogenic molecular beam source for free radicals
J. F. Barry, E. S. Shuman and D. DeMille
DOI: 10.1039/C1CP20335E
A cryogenic beam of refractory, chemically reactive molecules with expansion cooling
Nicholas R. Hutzler, Maxwell F. Parsons, Yulia V. Gurevich, Paul W. Hess, Elizabeth Petrik, Ben Spaun, Amar C. Vutha, David DeMille, Gerald Gabrielse and John M. Doyle
DOI: 10.1039/C1CP20901A
Production of cold bromine atoms at zero mean velocity by photodissociation
W. G. Doherty, M. T. Bell, T. P. Softley, A. Rowland, E. Wrede and D. Carty
DOI: 10.1039/C0CP02472D
Cooling and collisions of large gas phase molecules
David Patterson, Edem Tsikata and John M. Doyle
DOI: 10.1039/C002764B
Publishing work of the highest quality in the broad fields of physical chemistry, chemical physics and biophysical chemistry, PCCP is the ideal place to publish your research.
On behalf of the Editorial Board we invite you to submit your best work to PCCP.