PCCP is delighted to present its current issue which contains a collection of articles on the theme of Molecular Electronics, Guest edited by Itamar Willner, Roi Baer, Francoise Remacle and Shahal Ilani.
The cover image of this issue features the work of Denis Jacquemin and colleagues on the combined effect of stacking and solvation on the spontaneous mutation in DNA (DOI: 10.1039/C1CP20946A).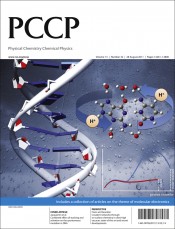 Highlights in the issue include:
Perspective
Covalent networks through on-surface chemistry in ultra-high vacuum: state-of-the-art and recent developments
Grégory Franc and André Gourdon
DOI: 10.1039/C1CP20700H
Communication
The origin of dips for the graphene-based DNA sequencing device
Yeonchoo Cho, Seung Kyu Min, Woo Youn Kim and Kwang S. Kim
DOI: 10.1039/C1CP20760A
Broadening of the derivative discontinuity in density functional theory
F. Evers and P. Schmitteckert
DOI: 10.1039/C1CP21247H
Browse this high-profile themed issue today!
Find out more about PCCP themed issues on our website.