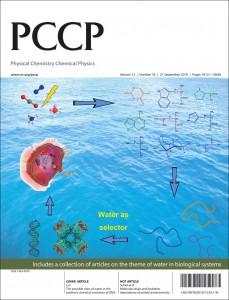 Issue 35 is part of the PCCP themed issues series on biophysics and biophysical chemistry and contains a collection of articles on the theme 'Water in biological systems', including a Perspective article on the evolution of DNA and a paper on the kinetic spectroscopy of hemoglobin by Robert Goldbeck:
The possible roles of water in the prebiotic chemical evolution of DNA
Shuxun Cui
Phys. Chem. Chem. Phys., 2010, 12, 10147-10153
Kinetic spectroscopy of heme hydration and ligand binding in myoglobin and isolated hemoglobin chains: an optical window into heme pocket water dynamics
Robert A. Goldbeck et al.
Phys. Chem. Chem. Phys., 2010, 12, 10270-10278

Read more about the PCCP biophysics and biophysical chemistry series, with the following issues already available:
•    Biomolecular structures: from isolated molecules to living cells
•    Molecular Mechanisms of the Photostability of Life
Also, you can submit to our upcoming 'Nano-bio' themed issue before the 06 December 2010.