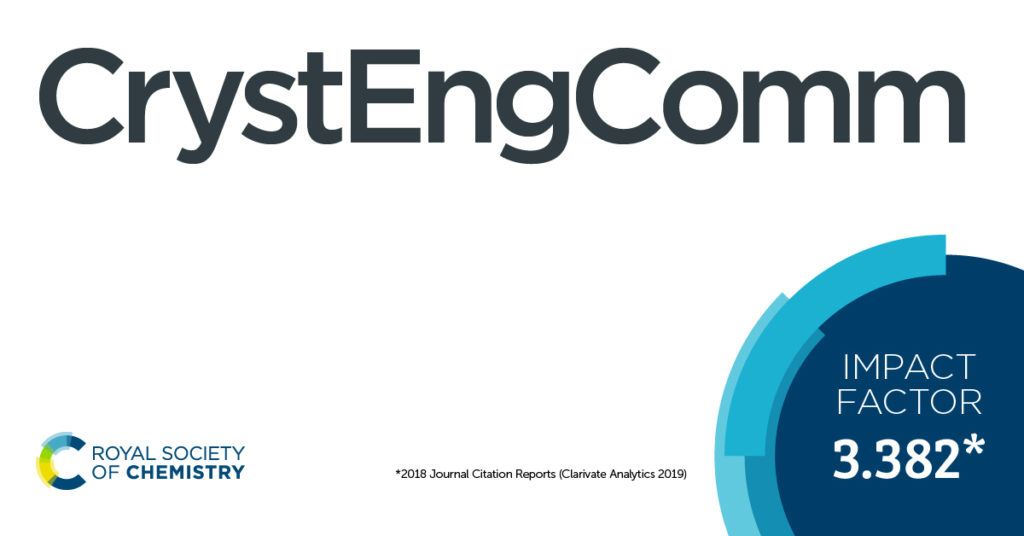 We have just updated our reviewer recommend 'HOT articles' & our cummulative 2019 Highlights collections.
We update our HOT articles collection quarterly and make the selected articles free to access for 6 weeks! This collection represents the top 10% of research published in CrystEngComm between April – June 2019.
Make the most of the free to access period by browsing the collection today!
Why not start here:
On the prevalence of smooth polymorphs at the nanoscale: implications for pharmaceuticals
Ana M. Belenguer, Aurora J. Cruz-Cabeza, Giulio I. Lampronti and Jeremy K. M. Sanders
CrystEngComm, 2019, 21, 2203-2211
DOI: 10.1039/C8CE02098A, Paper
A new dynamic framework with direct in situ visualisation of breathing under CO2 gas pressure
Phumile Sikiti, Charl X. Bezuidenhout, Dewald P. van Heerdena and Leonard J. Barbour
CrystEngComm, 2019, 21, 3415-3419
DOI: 10.1039/C9CE00418A, Paper
Our 2019 Highlights collection pulls together all of the reviews published in CrystEngComm throughout the year. Remember to check back to read our latest articles!
These two articles are already getting plenty of citations:
High pressure: a complementary tool for probing solid-state processes
Boris A. Zakharov and Elena V. Boldyreva
CrystEngComm, 2019, 21, 10-22
DOI: 10.1039/C8CE01391H, Highlight
ReS2-Based electrode materials for alkali-metal ion batteries
Xuan Xie, Minglei Mao, Shihan Qi and Jianmin Ma
CrystEngComm, 2019, 21, 3755-3769
DOI: 10.1039/C9CE00531E, Highlight
Submit your work to CrystEngComm – Check our website for handy tips and guidelines or find out more about the benefits of publishing with the Royal Society of Chemistry.