We are delighted to introduce Professors Susan Bourne and Dongfeng Xue as the newest members of our Editorial Board and are very happy to be able to welcome them to the team, and look forward to working closely with them on shaping the future of CrystEngComm!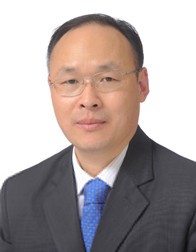 Professor Dongfeng Xue
Dongfeng Xue is a Professor at the State Key Laboratory of Rare Earth Resource Utilization, Changchun Institute of Applied Chemistry. He received his PhD in inorganic chemistry at CIAC in 1998. Following postdoctoral studies at the Universität Osnabrück, University of Ottawa and the National Institute for Materials Science in Tsukuba, he was promoted to Professor in 2001 at Dalian University of Technology, China. In 2011, he returned to CIAC to assume his professorship in inorganic chemistry. His research interests focus on multiscale crystallization of inorganic matter for energy and optical applications.
As a CrystEngComm Associate Editor, Professor Xue will be handling submissions in the areas of crystal growth, nanomaterials, polymorphism and crystal engineering techniques.
Professor Susan Bourne
Susan Bourne is the Professor of Physical Chemistry at the University of Cape Town. Her PhD, obtained at the University of Cape Town, was a study of organic inclusion compounds undertaken under the supervision of Professor Luigi Nassimbeni. Her research interests include the application of physicochemical methods to inclusion compounds and crystal engineering of metal-organic materials, all with the aim of correlating solid-state structure with physical properties and reactivity. She has published over 120 papers and has supervised 20 postgraduate students. She is the chair of the Structural Chemistry Commission of the International Union of Crystallography, and is a Fellow of the University of Cape Town.
Browse a selection of recent work published by Dongfeng and Susan below:
Design and synthesis of a nonlinear optical material BaAl4S7 with a wide band gap inspired from SrB4O7
Dajiang Mei, Jianqiao Jiang, Fei Liang, Shiyan Zhang, Yuandong Wu, Congting Sun, Dongfeng Xue and Zheshuai Lin
J. Mater. Chem. C, 2018, 6, 2684-2689
The synergy effect of rare earth cations on local structure and PL emission in a Ce3+:REPO4 (RE = La, Gd, Lu, Y) system
Congting Sun and Dongfeng Xue
Dalton Trans., 2017, 46, 7888-7896
Crystallization of transition metal oxides within 12 seconds
Kunfeng Chen and Dongfeng Xue
CrystEngComm, 2017, 19, 1230-1238
Supramolecular metallogels constructed from carboxylate gelators
Savannah C. Zacharias, Gaëlle Ramon and Susan A. Bourne
Soft Matter, 2018, 14, 4505-4519
Unravelling chromism in metal–organic frameworks
Gift Mehlana and Susan A. Bourne
CrystEngComm, 2017, 19, 4238-4259
Crystallisation temperature control of stoichiometry and selectivity in host–guest compounds
Nicole M. Sykes, Hong Su, Edwin Weber, Susan A. Bourne and Luigi R. Nassimbeni
CrystEngComm, 2017, 19, 5892-5896
*Access to these articles is free until 31/08/2018 through a registered RSC account.
Submit your research or reviews to CrystEngComm – see our author guidelines for information on our article types or find out more about the advantages of publishing in a Royal Society of Chemistry journal.