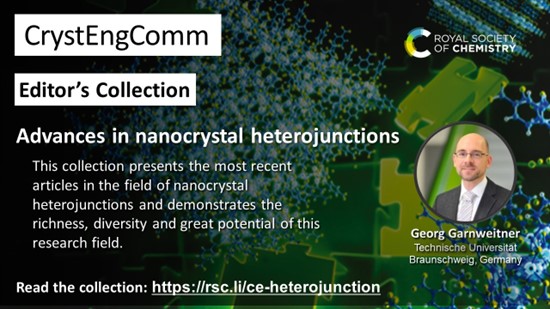 We are delighted to share with you our latest Editor's Collection on Advances in nanocrystal heterojunctions
This latest collection of recently published articles focusing on Advances in nanocrystal heterojunctions has been handpicked by CrystEngComm Advisory Board Member, Professor Georg Garnweitner (Technische Universität Braunschweig, Germany).
The combination of different components at the nanoscale continues to be a prime strategy for the development of materials with enhanced performance in a broad range of application fields. Thereby, due to the alteration of band structures, heterojunctions offer particularly fascinating possibilities for the rational design of systems with tailored properties. This collection presents the most recent articles in the field of nanocrystal heterojunctions. Whilst most works focus on the synthesis of materials with superior properties for applications ranging from electro- and photocatalysis to gas sensing, electromagnetic shielding and spin valves, also mechanistic studies aiming for an enhanced understanding of heterojunction properties as well as theoretical works on the properties of heterojunction materials are included. Thus, the collection demonstrates the richness, diversity and great potential of this research field.
Browse some of the articles in the collection below:
Porous direct Z-scheme heterostructures of S-deficient CoS/CdS hexagonal nanoplates for robust photocatalytic H2 generation
Zhihui Li, Hanchu Chen, Yanyan Li, Hui Wang, Yanru Liu, Xia Li, Haifeng Lin, Shaoxiang Li and Lei Wang
CrystEngComm

, 2022,

24

, 404-416
We hope you enjoy these articles and the rest in the collection.
Meet the Editor
| | |
| --- | --- |
| | Georg Garnweitner received a Diploma in Technical Chemistry at Vienna University of Technology, Austria, in 2003 and then moved to the Max Planck Institute of Colloids and Interfaces, Potsdam, Germany, where he obtained his Ph.D. in Colloids Chemistry in 2005. He was appointed as Professor at Technische Universität Braunschweig, Germany, in 2007. His research is centered on the synthesis of inorganic nanoparticles and hybrid materials, in particular via nonaqueous approaches. In addition, the surface modification and functionalization of nanomaterials are studied in his group, targeting diverse application fields such as solid-state and lithium-sulfur batteries, lightweight composites and drug delivery. |
About CrystEngComm
Published by the Royal Society of Chemistry and with a truly international Editorial Board, CrystEngComm is the forum for the design and understanding of crystalline materials. We welcome studies on the investigation of molecular behaviour within crystals, control of nucleation and crystal growth, engineering of crystal structures, and construction of crystalline materials with tuneable properties and functions.
We invite you to submit your research to CrystEngComm to give your work the global visibility it deserves.
Follow us on X (formerly Twitter) @CrystEngComm and sign up to our e-alerts to keep up to date with the latest articles and other journal news.