The latest CrystEngComm themed collection, Host‒Guest chemistry: in honour of Luigi Nassimbeni's 9th decade is now online! Guest edited by Associate Editor, Professor Susan Bourne, University of Cape Town, South Africa; Professor Len Barbour, University of Stellenbosch, South Africa and Professor Nikoletta Bathori, Cape Peninsula University of Technology, South Africa, this collection aims to pay tribute to the remarkable achievements of Luigi Nassimbeni as he enters his 9th decade, and to celebrate him as an esteemed mentor, whose ideas and advancement of host-guest chemistry live on in successive generations of supramolecular chemists.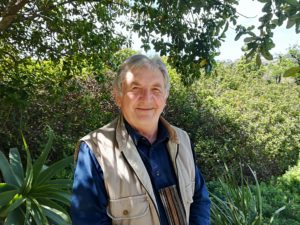 Host-guest chemistry has developed into a broad and exciting field of study, expanding rapidly from its early beginnings in the 1980s. From the study of inclusion compounds, this area of endeavour has evolved to encompass polymorphism, solid-state reactivity, multicomponent crystals, and mechanochemistry, with applications in separation, catalysis, chemical sensors and nanotechnology.
Luigi Nassimbeni has been highly influential in the development of this field, from early studies on hydrogen-bonded synthons, to advances in the separation of closely related organic compounds. Over the years, Luigi Nassimbeni has mentored many students who have gone on to establish their own independent careers in the field. He has played a significant role in the development of solid-state chemistry in South Africa, particularly with regard to X-ray diffraction, and through his early application of thermal analysis to the study of inclusion compounds. He was ahead of his time when he proposed, during the 1980's, that it might be possible to activate some molecular crystals to yield porous structures for guest inclusion. This collection highlights his recent publications in CrystEngComm, as well as other recent articles on the topic of host-guest chemstry, along with new submissions from colleagues around the world.
See the full collection here
If you have primary research in the area of Host‒Guest chemistry ready for publication submit to CrystEngComm – see our author guidelines for information on our article types or find out more about the advantages of publishing in a Royal Society of Chemistry journal.