We are delighted to share with you our latest collection of recently published articles focusing on Halogen Bonding in Crystal Engineering, handpicked by Chair of the Editorial Board, Pierangelo Metrangolo, Politecnico di Milano, Italy.
The halogen bond is the attractive interaction between an electrophilic region associated with a halogen atom in a molecular entity and a nucleophilic region in another, or the same, molecular entity. Since its rediscovery in the early 2000s, the field of halogen bonding has boomed, becoming one of the most used chemical interactions in crystal engineering. This Editor's collection highlights recent contributions to CrystEngComm that are broadly focused on halogen bonding in crystal engineering. The selection of articles showcases how the field has developed from the design of crystal structures to the development of functional materials. The wide range of halogen bond applications covers phosphorescent materials, pharmaceutical co-crystals and peptides, organic electronics, coordination frameworks, where the halogen bonds either drive the formation of the network, or stabilize it as a secondary interaction, or is used to bind hosted guests. Halogen bonding has become a mature field of research but its rediscovery has sparked interest towards other lesser known interactions, which are anticipated to become more prominent in the future, such as chalcogen, pnictogen, and tetrel bonds.
All of these articles are free to access until June 30th 2021 and we hope you enjoy reading them.
We also invite you to submit your research to CrystEngComm to give your work the global visibility it deserves.
Selected articles: 
Halogen bonded metal bis(dithiolene) 2D frameworks
Hadi Hachem, Olivier Jeannin, Marc Fourmigué, Frédéric Barrière and Dominique Lorcy
CrystEngComm,

2020,

22

, 3579-3587

Two-dimensional halogen-bonded organic frameworks based on the tetrabromobenzene-1,4-dicarboxylic acid building molecule
Nucharee Chongboriboon, Kodchakorn Samakun, Thitirat Inprasit, Filip Kielar, Winya Dungkaew, Lawrence W.-Y. Wong, Herman H.-Y. Sung, Dragan B. Ninković, Snežana D. Zarić and Kittipong Chainok
CrystEngComm,

2020,

22

, 24-34

Halogen bonding in 5-iodo-1-arylpyrazoles investigated in the solid state and predicted by solution 13C-NMR spectroscopy
Marcel Mirel Popa, Isabela Costinela Man, Constantin Draghici, Sergiu Shova, Mino R. Caira, Florea Dumitrascu and Denisa Dumitrescu
CrystEngComm,

2019, 7085-7093
Meet the Editor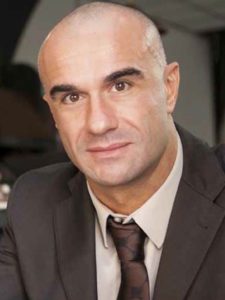 Pierangelo Metrangolo (Lecce, 16 April 1972) has been a full Professor at the Politecnico di Milano since 2011. He also holds a part-time position at the VTT-Technical Research Centre of Finland and from 2015 has been a visiting professor at the Aalto University, Finland. He is co-editor of Acta Crystallographica, section B and is Chair of the Editorial Board of CrystEngComm and is on the Editorial Advisory Board of Crystal Growth and Design.
He is author of 185 publications with 9266 citations (h-index: 49), 10 chapters in international books and holds 11 patents. He has given 45 invited lectures at national and international meetings and 26 invited seminars at universities and research institutes. He is currently Titular Member of the Physical and Biophysical Chemistry Division of the IUPAC. Since 2013 he is the holder of a European Research Council grant to carry with the project "FOLDHALO – Folding with Halogen Bonding".
About CrystEngComm
Published by the Royal Society of Chemistry and with a truly international Editorial Board, CrystEngComm is the forum for the design and understanding of crystalline materials. We welcome studies on the investigation of molecular behaviour within crystals, control of nucleation and crystal growth, engineering of crystal structures, and construction of crystalline materials with tuneable properties and functions.
To keep up to date with the latest articles and other journal news, sign up to the e-alerts.