We are delighted to announce a CrystEngComm themed issue to be published in 2021: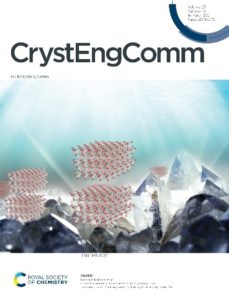 Crystal Growth of Nanomaterials:
Guest Editors: Professor Dongfeng Xue (Multiscale Crystal Materials Research Center of Shenzhen Institute of Advanced Technology of CAS, China),  Professor Dr Georg Garnweitner (Technische Universität Braunschweig, Germany) and Professor Kwangyeol Lee (Korea University, Korea).
Deadline: 31st May 2021
Does your research fit into this subject area? If so, we would welcome your contribution. For further details on issue scope and on how to submit, see below:
Issue scope
The field of nanomaterials continues to be highly dynamic, with more and more complex products being synthesized in highly defined form. For many applications, crystalline materials with tailored properties are desired, necessitating an adjustment of size or morphology. It is imperative to understand the growth mechanisms and processes of these materials, which enables their facile tailoring by thermodynamic and kinetic control. For many systems, a host of synthesis strategies have been reported, but the actual growth processes and mechanisms remain elusive.
Therefore, in this themed issue, we intend to specifically shed a light on recent advances on the understanding and control of crystal growth mechanisms and processes of nanomaterials. Thereby, all kinds of materials as well as all possible synthesis strategies and growth theories, both in the liquid phase or gas phase, at room temperature or high temperatures, are covered.
How to submit
All types of manuscript – communications, full papers and highlights, will be considered for publication. The manuscript should be prepared according to our article guidelines and submitted via our online system.
All manuscripts will be subject to the usual initial assessment and peer review processes as necessary, and inclusion in the themed issue will be at the discretion of the Guest Editors. Please indicate in your submission that you are submitting to the themed issue.
Interested in submitting a paper? Please contact us for more information