The latest CrystEngComm themed issue, The Cambridge Structural Database – A wealth of knowledge gained from a million structures is now online! Guest edited by Suzanna Ward, CCDC Head of Database, and Ghazala Sadiq, CCDC Senior Scientist, the issue highlights some of the many applications of the CSD in celebration of achieving one millionth crystal structure in 2019.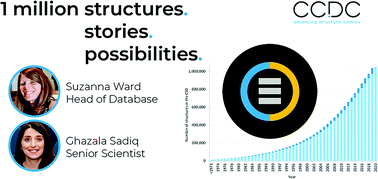 The collection features work by CrystEngComm Editorial Board Members Susan A. Bourne (University of Cape Town) and Aurora J. Cruz-Cabeza (University of Manchester) and covers a diverse range of topics, including MOF design, pharmaceutical manufacturing, and data mining.
Read the news article on this special issue at the CCDC website, or check out some Open Access articles from the collection below:
Enabling efficient exploration of metal–organic frameworks in the Cambridge Structural Database

CrystEngComm, 2020,22, 7152-7161

A tutorial review for mining the ever growing number of metal–organic frameworks data in the Cambridge Structural Database, for MOF scientists of all backgrounds.

Can solvated intermediates inform us about nucleation pathways? The case of β-pABA

CrystEngComm, 2020,22, 7447-7459

Using crystallography to search for nucleation pathways: α and β polymorphs of p-aminobenzoic acid.

 

From structure to crystallisation and pharmaceutical manufacturing: the CSD in CMAC workflows

CrystEngComm, 2020,22, 7475-7489

Two workflows are presented that are relevant to the design and construction of end-to-end pharmaceutical manufacturing processes.

 
See the full collection here.
Submit your research or reviews on crystal engineering to CrystEngComm – see our author guidelines for information on our article types or find out more about the advantages of publishing in a Royal Society of Chemistry journal.