We are delighted to share with you our latest collection of recently published articles focusing on Metal Organic Framework based catalysts for water splitting and CO2 reduction, handpicked by Editorial Board Member Professor Tong-Bu Lu, Tianjin University of Technology, China.
All of these articles are free to access until December 31st, 2020 and we hope you enjoy reading them.
We are pleased to invite you to submit your research to CrystEngComm and give your work the global visibility it deserves.
Selected articles:
Covalently anchoring cobalt phthalocyanine on zeolitic imidazolate frameworks for efficient carbon dioxide electroreduction
Zhongjie Yang, Xiaofei Zhang, Chang Long, Shuhao Yan, Yanan Shi, Jianyu Han, Jing Zhang, Pengfei An, Lin Chang and Zhiyong Tang
CrystEngComm, 2020, 22, 1619-1624.
Polymorphs of a copper coordination compound: interlinking active sites enhance the electrocatalytic activity of the coordination polymer compared to the coordination complex
Pandi Muthukumar, Mehboobali Pannipara, Abdullah G. Al-Sehemi, Dohyun Moon and Savarimuthu Philip Anthony
CrystEngComm, 2020, 22, 425-429.
Understanding metal–organic frameworks for photocatalytic solar fuel production
J. G. Santaclara, F. Kapteijn, J. Gascon and M. A. van der Veen
CrystEngComm, 2017, 19, 4118-4125.
Meet the Editor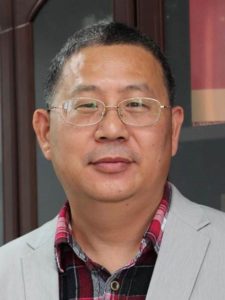 Tong-Bu Lu was born in 1964. He graduated in Chemistry from Lanzhou University in 1993, and then moved to Sun Yat-Sen University as a Postdoc. joining the Faculty and then becoming Professor of Chemistry in 2000. He moved to Tianjing University of Technology in 2016. He worked as a postdoc. in F. Albert Cotton's group at Texas A&M University in 1998 and 2002. His research interests focus on crystal engineering, including macrocyclic chemistry, MOFs and pharmaceutical polymorphs and co-crystals. He currently focuses on the study on homogeneous and heterogeneous catalysts for water splitting and CO2 reduction. He obtained the National Natural Science Foundation for Distinguished Youth Scholar award in 2006. He has over 200 scientific publications and an h-index of 43. He is currently a fellow of the Royal Society of Chemistry (FRSC), is on the Editorial Board of CrystEngComm, the Editorial Advisory Board of Current Green Chemistry and Current Pharmaceutical Design and is a co-editor of Acta Crystallographica Section C.