We are delighted to share with you our latest collection of recently published articles focusing on Zirconium based MOFs for catalysis, handpicked by Editorial Board Member Omar K. Farha, Northwestern University, USA.
These articles are free to access until September 30th, 2020 and we hope you enjoy reading them.
We are very pleased to invite you to submit your research to CrystEngComm and give your work the global visibility it deserves.
Selected articles:
Single crystal structure and photocatalytic behavior of grafted uranyl on the Zr-node of a pyrene-based metal–organic framework
Julia G. Knapp, Xuan Zhang, Tatyana Elkin, Laura E. Wolfsberg, Sylvia L. Hanna, Florencia A. Son, Brian L. Scott and Omar K. Farha
CrystEngComm, 2020, 22, 2097-2102
Ferrocenecarboxylic acid: a functional modulator for UiO-66 synthesis and incorporation of Pd nanoparticles
Zheng Deng, Xinsheng Peng and Yu-Jia Zeng
CrystEngComm, 2019, 21, 1772-1779
Synthesis, characterization, and post-synthetic modification of a micro/mesoporous zirconium–tricarboxylate metal–organic framework: towards the addition of acid active sites
Carolina Ardila-Suárez, Ana M. Díaz-Lasprilla, Laura A. Díaz-Vaca, Perla B. Balbuena, Víctor G. Baldovino-Medrano and Gustavo E. Ramírez-Caballero
CrystEngComm, 2019, 21, 3014-3030

Meet the Editor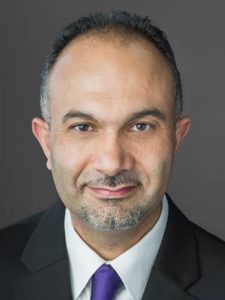 Omar K. Farha is an associate professor of chemistry at Northwestern University, Distinguished Adjunct Professor at King Abdulaziz University, president of NuMat Technologies, and Associate Editor for ACS Applied Materials & Interfaces. His research accomplishments have been recognized by several awards and honours including the Royal Society of Chemistry "Environment, Sustainability and Energy Division Early Career" Award; the American Chemical society "The Satinder Ahuja Award for Young Investigators in Separation Science; and an award established by the Department of Chemistry at Northwestern University in his honour: the Omar Farha Award for Research Leadership "awarded for stewardship, cooperation and leadership in the finest pursuit of research in chemistry" and given annually to an outstanding research scientist working in the department. His current research spans diverse areas of chemistry and materials science ranging from energy to defence related challenges. Specifically, his research focuses on the rational design of metal–organic frameworks (MOFs) and porous-organic polymers for sensing, catalysis, storage, separations and light harvesting. Professor Farha has more than 300 peer-reviewed publications, holds 13 patents, and has been named a "Highly Cited Researcher" by Thomson Reuters in 2014, 2015, 2016 and 2017.