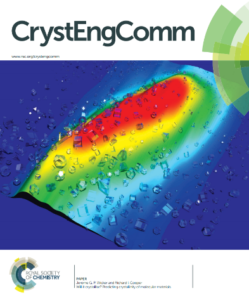 We are delighted to announce two new CrystEngComm themed issues to be published in 2017:
Metal Organic Framework Catalysis Guest Editors: Professors Christian Doonan and Christopher Sumby (University of Adelaide, Australia) Deadline: 27th February 2017
Covalent Organic Frameworks and Organic Cage Structures Guest Editors: Professors Rahul Banerjee (CSIR-National Chemical Laboratory, India) and Neil Champness (University of Nottingham, UK) Deadline: 28th March 2017
Does your research fit into any of these subject areas? If so, we would welcome your contribution. For further details on issue scopes and on how to submit, see below:
How to submit
All types of manuscript – communications, full papers and highlights, will be considered for publication. The manuscript should be prepared according to our article guidelines and submitted via our online system.
All manuscripts will be subject to normal peer review and inclusion in the themed issue will be at the discretion of the Guest Editors. Please indicate in your submission which themed issue you would like to be considered for.
Issue scopes
Metal-Organic Framework Catalysis: This issue will focus on structural aspects of MOFs related to catalysis including but not limited to; post-synthetic modification strategies, incorporation of catalytic moieties into the framework structure, the generation of coordinatively unsaturated or defect sites and the characterisation of composite materials and hierarchical architectures that display catalytic properties. Structural and mechanistic insight into catalytic reactions garnered through MOF chemistry are also sought. MOFs are promising materials for heterogeneous catalysis and the central aim of this special issue is to elucidate how structural motifs can be incorporated into the design of MOFs with potentially novel catalytic activities.
Covalent Organic Frameworks and Organic Cage Structures: The aim of this themed issue is to focus on the design strategies for the construction of porous organic materials, including covalent organic frameworks and organic cage structures with new physicochemical properties. This issue will also focus on any associated challenges in terms of synthesis, crystallization and structure–property relationships of covalent organic frameworks and organic cage structures.
Interested in submitting a paper? Please contact us for more information