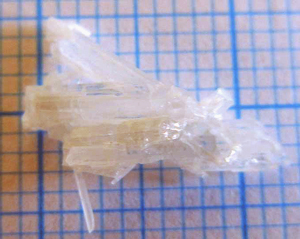 This month's crystal clear is a barium borate crystal.
Inorganic borates are of interest due to their physical properties in the ultraviolet range of the electromagnetic spectrum, making them potentially useful materials in non-linear optics. The image is of a crystal created by T. B. Bekker et al from the Siberian Branch of Russian Academy of Sciences and published in Issue 20 of CrystEngComm.
The team were studying the BaB2O4–BaF2–BaO system and discovered the new non-centrosymmetric solid-solution series Ba7(BO3)4−xF2+3x. For more information on the group's discoveries you can download the full paper which is free to access for 4 weeks.
Phase formation in the BaB2O4–BaF2–BaO system and new non-centrosymmetric solid-solution series Ba7(BO3)4−xF2+3x
T. B. Bekker, S. V. Rashchenko, V. V. Bakakin, Yu. V. Seryotkin, P. P. Fedorov, A. E. Kokh and S. Yu. Stonoga
CrystEngComm, 2012, 14, 6910-6915
DOI: 10.1039/C2CE26122G