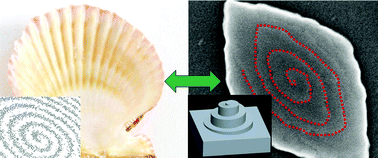 Nacre, a material found on the outer-coating of pearls, has incredible mechanical strength thanks to its arrangement of parallel laminars of inorganic layers separated by organic layers of macromolecules.
Scientists at Zhejiang University, China, have combined calcium phosphate and sodium bis(2-ethylhexyl)sulfosuccinate in the presence of bovine serum albumin to create hybrid crystals with a nacre-like structure. 
The hybrid crystals grew by a classical screw growth mechanism which is similar to the actual biological pathway for nacre formation. Further development of such biomimetic pathways will progress research into new, and perhaps stronger, organic-inorganic composites.
Download the manuscript which will be free to access for 4 weeks.
Lamellar organic–inorganic architecture via classical screw growth
Yan Quan, Halei Zhai, Zhisen Zhang, Xurong Xu and Ruikang Tang
CrystEngComm, 2012
DOI: 10.1039/C2CE25805F, Paper
Are you following us on Twitter?  @crystengcomm