Last week I attended the Gordon Research Conference in Crystal Engineering. This was my first GRC and I loved it! The meeting was held at Waterville Valley Resort in New Hampshire, USA which can be best described as something the Disney resorts would use to model their wildnerness lodge areas. The looming hills, rivers, New England-style cabins and prowling bears (unfortunately I didn't spot any!) were the perfect backdrop to a meeting filled with excellent science and a great chance for colleagues from across the globe to catch up.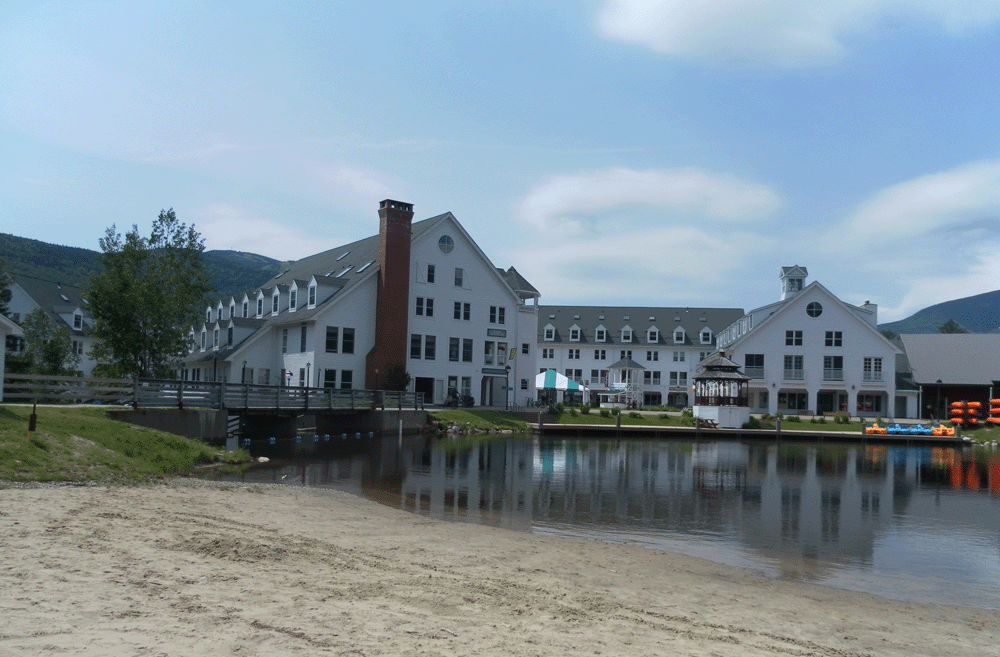 This year the conference was chaired by Robin Rogers (University of Alabama and Crystal Growth & Design Editor in Chief), with Vice Chairs Christer Aakeröy (Kansas State University and CrystEngComm Associate Editor) and Mike Zawarotko (University of South Florida and Crystal Growth & Design Associate Editor).
Following the two and a half hour coach journey from Boston, we were rushed into dinner which was quickly followed by the first of the evening lectures, marking the beginning of the meeting. The first session was nanocrystal-based with talks given by Helmut Coelfen and Christoph Janiak on using ultracentrifugation to analyse nanoparticles and ionic liquids to stabilise nanoparticles, respectively.
After kick-starting Day 2 with the obigliatory American waffles and maple syrup, I joined the morning session to hear Jennifer Swift deliver her presentation, providing insight into in vivo uric acid precipitation. Next up was Kraig Wheeler who described his recent work investigating quasiracemates, followed by Miguel Garcia-Garibay's talk on performing photochemical reactions with nanocrystals. The evening session was of much more relective nature with Joel Bernstein looking back over the seminal work from the past decades. Gautam Desiraju talked on polymorphism, highlighting some of his recent nanoidentation work published in Chemical Science (see here for more).
Tuesday morning was dedicated to porous materials – Lee Cronin and Arunachalamr Ramanan delivered presentations on polyoxometallates and Shengqian Ma gave an overview on his latest work on metalloporphyrin frameworks – whilst the evening session was focused on conducting materials with talks by Marc Fourmigué and Hiroshi Yamamoto.
Poster sessions were held throughout the week and were a true reflection of the quality and the diversity of the talks. The CrystEngComm poster prize was awarded to Sajesh Thomas from Professor Guru Row's research group at the Indian Institute of Science, Bangalore. His poster was entitled "Chalcogen Bonding in Crystal Engineering: Its Directing role in Isostructurality and Polymorphism." Well done Sajesh!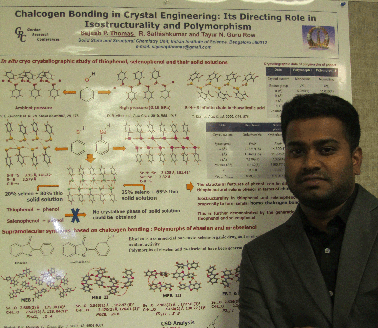 I reluctantly left the conference on the Wednesday morning after excellent talks from Nair Rodriguez-Hornedo and Susan Bourne (who began her talk using penguins to describe different crystal symmetries!), but I have been assured that the science continued to "sparkle"…