Professor Alessia Bacchi completed her undergraduate and graduate studies at the University of Parma. After completing a two year post doc in the European Molecular Biology Lab in Hamburg, she returned to the University of Parma in October 1998. Since October 2001, Alessia has been Associate Professor in the Faculty of Science, investigating the supramolecular organization in crystals as a model for the description of multicomponent systems and for the realization of new materials with complex properties. She is on the European Crystallographic Association Executive Committee and is the past chair of the IUCr Commission on Structural Chemistry. Here, she talks to CrystEngComm to tell us about her hopes for understanding crystal nucleation; her fascination with molecular models; and her enthusiasm for educating young researchers and students.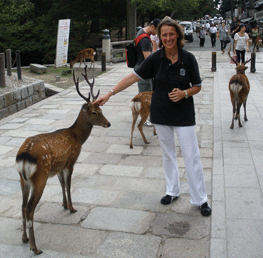 Why did you want to become a scientist?
I wanted to capture the deepest reasons behind what I could see. I have always been fascinated by building models to explain things.
What projects are you working on at the moment?
We are designing molecular materials that can adapt their solid state organization to include and reversibly release small guests, by reacting to external stimuli. We also work on polymorphs – a fascinating world where the more you look at things, the more you see fine details and unexpected results.
What do you think will be the next big breakthrough in your field?
I believe that understanding the process of nucleation, the very first stages of the birth of a crystal, would be a real step forward for scientists who design and fabricate crystalline materials.
How do you think crystal engineering will develop in the next couple of years?
The field is already on the cusp of fabricating novel materials with applications in the field of nanosciences in general. Also, control of crystal forms is becoming affordable. In a nutshell: less space for serendipity, more emphasis on control.
What is the most rewarding aspect of your work?
I still get excited when a prediction comes true, or when at the end of a lot of hard work I finally see the reason behind a particular observation. The education of young researchers and students is also an extremely rewarding aspect of academic life.
What is the secret to a successful research group?
To know each other's strengths and weaknesses, and to be able to compensate one's faults with someone else's skills.
What achievements are you most proud of?
From a professional point of view, I was very proud to be invited as a lecturer at the Erice School in 2007. Erice schools are a real richness for the soul. On the research side, I cite two cases where I felt very proud that my predictions came true…
Just after finishing my PhD I predicted that there should be conformational polymorphism for rifamycins (a well known family of antibiotics) because I had been able to formulate a model of molecular flexibility previously overlooked (published in Journal of Medicinal Chemistry and Journal of Computer-Aided Molecular Design). Then I planned an unconventional crystallization experiment and 'eureka' the predicted form was there! I still remember the joy when I first saw the structure (published in New Journal of Chemistry). More recently, I had the crazy idea to predict the strength of intermolecular interactions by measuring crystal shape, and it worked! (published in Angewandte Chemie International Edition).
What advice would you give to young scientists?
To be ambitious and passionate in their work, to be honest and kind with colleagues and young students. Being a good person is the most important thing.
What would you do if you weren't a scientist?
I would have probably become a teacher, or a medical doctor (or an explorer, or an archeologist, or a detective, or a champion at the Olympic Games….!)
What is your favourite space group and why?
P212121, because the origin is not in an obvious place or at the intersection of anything.
What was your first crystal structure?
A ligand that I synthesized during my thesis: bis(2-Pyridyl)ketone (phenyl(semicarbazono)acetyl)hydrazone monohydrate (CSD refcode PEBMAK)
Read more about Alessia's research in the CrystEngComm articles below…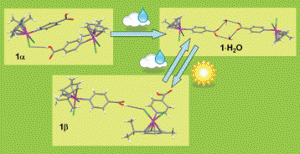 Water vapour uptake and extrusion by a crystalline metallorganic solid based on half-sandwich Ru(II) building-blocks
Alessia Bacchi, Giulia Cantoni, Michele R. Chierotti, Alberto Girlando, Roberto Gobetto, Giuseppe Lapadula, Paolo Pelagatti, Angelo Sironi and Matteo Zecchini
CrystEngComm, 2011, 13, 4365–4375

Effects of "changing the wheels" on the inclusion properties in metal–organic diols
Alessia Bacchi, Mauro Carcelli, Tiziana Chiodo and Francesco Mezzadri
CrystEngComm, 2008, 10, 1916–1927
Unusual hydrogen bonded (OH)4 tetrahedral nests organize zinc(II) coordination complexes in a non covalent diamondoid network
Alessia Bacchi, Elsa Bosetti and Mauro Carcelli
CrystEngComm, 2007, 9, 313–318