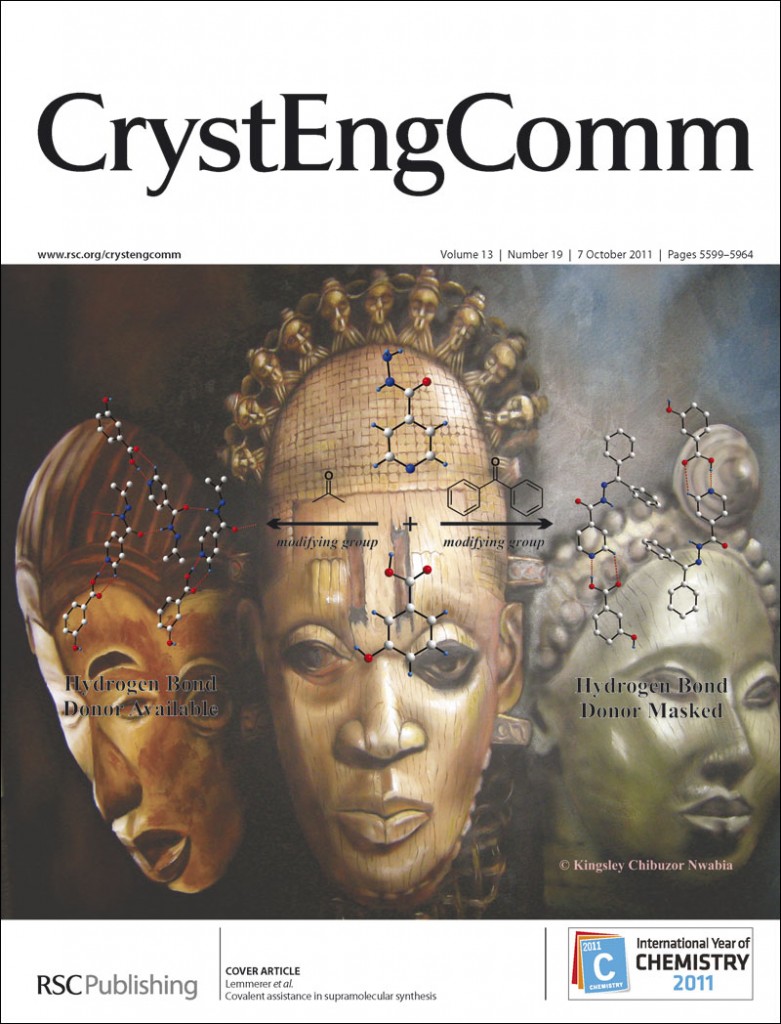 The cover of CrystEngComm Issue 19 is a lovely image showing isoniazid on a back ground painting of African masks. We asked the author of the paper, Andreas Lemmerer, to tell us more about it…
'So, the idea behind the cover all centres around the word mask, the idea to use African  Masks is because I am South African, and I liked to add an African flavour.
In our paper, we introduce two means on how to alter the hydrogen bonding functionality of the supramolecular reagent isoniazid. Firstly, we take a ketone (or aldehyde), and by reacting it with the amine part of the hydrazide group in a condensation reaction, we "modify" its hydrogen bonding potential. This is the covalent reaction that forms part of the "covalent assistance to supramolecular synthesis" concept mentioned in the title.
The modification basically involves replacing the two amine H atoms with a N=C. This can achieved quite easily using acetone, and that is shown on the left of the cover picture.
However, there is potential to further alter the hydrogen bonding, by using the steric size of larger ketones, such as benzophenone. In this case, the phenyl rings are arranged such that they prevent access to the remaining amide H atom on the now modified hydrazide function group. We call this "masking", and is seen in the right co-crystal. So, in comparison to the acetone modified co-crystal, the amide forms a C(4) chain as amides like to do. Now, with the benzophenone modified isoniazid, this chain can not form anymore.
What makes this concept exciting is that the modification, and potential masking, is done in-situ during the co-crystallization process in a one-pot experiment.'
– Andreas Lemmerer
Visit Andreas' website at http://wits.academia.edu/AndreasLemmerer
The image of the masks was painted by Kingsley C. Nwabia, visit the artist's website at http://www.kaizarts.com/
Read the paper that the cover is based on…
Covalent assistance in supramolecular synthesis: in situ modification and masking of the hydrogen bonding functionality of the supramolecular reagent isoniazid in co-crystals
Andreas Lemmerer, Joel Bernstein and Volker Kahlenberg
CrystEngComm, 2011, 13, 5692-5708
or check ou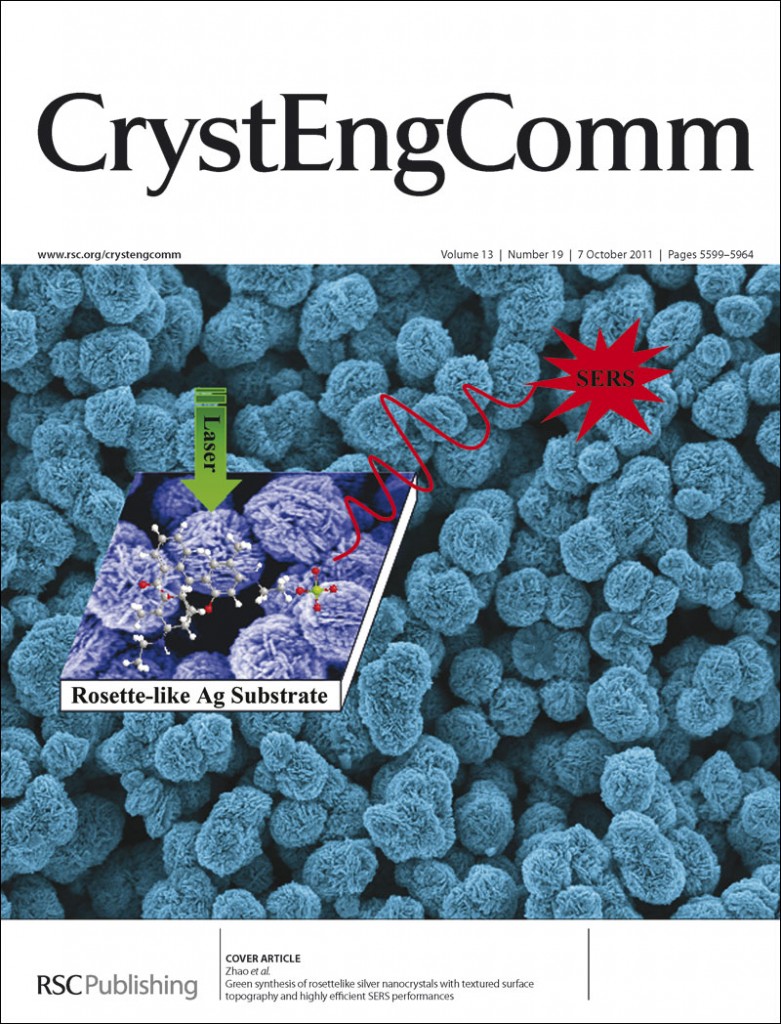 t the inside cover…
Green synthesis of rosettelike silver nanocrystals with textured surface topography and highly efficient SERS performances
Maofeng Zhang, Aiwu Zhao, Hongyan Guo, Dapeng Wang, Zibao Gan, Henghui Sun, Da Li and Ming Li
CrystEngComm, 2011, 13, 5709-5717
Keep up to date with the latest news and research in solid-state and crystalline materials: sign up to the CrystEngComm e-alert, check out our blog, and like us on Facebook.