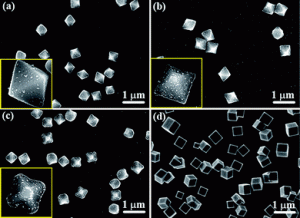 In this CrystEngComm Hot Article, Hongzheng Chen and colleagues synthesized uniform PbS nanocrystals using a surfactant-free electrodeposition method.
They investigated the effect of the concentration of Cl− ions, deposition time and applied deposition current in tuning the morphology of the crystals.
The authors believe the method could be extended to the shape-controlled synthesis of other semiconductor crystals, especially metal sulfides.
Read more for FREE:
Morphology evolution route of PbS crystals via environment-friendly electrochemical deposition
Weiming Qiu, Mingsheng Xu, Fei Chen, Xi Yang, Yaxiong Nan and Hongzheng Chen
CrystEngComm, 2011, Advance Article
DOI: 10.1039/C1CE05225J, Paper