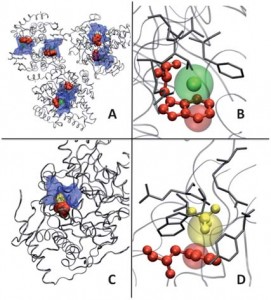 Over the past 10 years, anion–pi interaction has been recognized as an important weak force
that may occur between anionic systems and electron-deficient aromatics. Lately, this
supramolecular contact has experienced a rapidly growing interest. The following Hot article by Patrick Gamez and co-workers highlights the tremendous progress achieved in the field by emphasizing three important studies involving anion–pi interactions published in 2010.
Hot article FREE to read until 16th March 2011!
Recent advances in anion–π interactions
Arturo Robertazzi, Florian Krull, Ernst-Walter Knapp and Patrick Gamez
CrystEngComm, 2011, Advance Article DOI: 10.1039/C0CE00819B, Highlight