How an uninspiring science teacher sparked a successful career in crystal engineering….Susan Bourne talks to CrystEngComm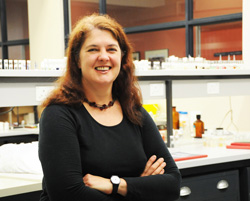 Susan Bourne is a professor in the Department of Chemistry at the University of Cape Town, where she has been based since 1994. Her research is focused on crystal engineering of molecules with diverse functional properies such as metal organic frameworks and layered hybrid perovskites. Susan is also a member of the CrystEngComm Advisory Board.
 Why did you to become a scientist?
Unusually (I think) my interest in chemistry was sparked by a poor science teacher in high school.  Knowing that I needed to pass the school-leaving exams, I read the textbook cover to cover, and was hooked!  I always wanted to understand how things worked or what was underneath the surface.  Developing and rationalising concepts was easier for me than memorising lists of facts.
What projects are you working on at the moment?
We're working on coordination networks (including some MOFs) which are able to absorb guests from gas or solution, and also on the supramolecular modification of biologically active compounds. 
What do you think will be the next big breakthrough in your field?
Breakthroughs, by their nature, are hard to foresee, but I'll stick my neck out and say that crystal packing prediction has made enormous advances recently and I'm beginning to believe that the day will come when it will be possible to design crystal structures rather than rationalising them after the fact.
How do you think crystal engineering will develop in the next five years?
I believe we're on the cusp of very exciting developments and that the next few years will see the actualisation of many of the promises of crystal engineering: the production of materials with measurably improved properties which have been 'engineered' in at the design stage.  We'll also see the development of more and more responsive systems, which react to their environment in some way.
What is the most rewarding aspect of your work?
There aren't many jobs where you get to work with intelligent and motivated people every day.  Watching students develop their scientific confidence is hugely rewarding as is seeing them move on to become my colleagues. 
What is the secret to a successful research group?
My research group has always shared space and facilities with other groups which I think has fostered a collaborative spirit.  Encouraging students to explore their own interests and try out something new and even a bit off-the-wall has sometimes produced exciting results.
What achievement are you most proud of?
Probably our most recent work on metal-organic frameworks which collapse on dehydration and regenerate on exposure to guest vapours.  But then I'm always excited by new results, so this will probably change soon.
What advice would you give to a young scientist?
Read widely, attend seminars outside your own area and keep an open mind.  And learn to bounce back from setbacks!
What would you do if you weren't a scientist?
I really had to rack my brains to answer this.  I think I would have to be a scientist of some sort, nothing else interests me as much.  Geology and botany are both interests I'd like to explore more one day.
What is your favourite place to be?
The natural environment around Cape Town is wonderful and easily accessible.  I find running in the mountains exhilarating and inspiring.
Find out more about Susan on her webpage at the University of Cape Town.
Read some of Susan's exciting research:
Incorporating active pharmaceutical ingredients into a molecular salt using a chiral counterion
Andreas Lemmerer, Susan A. Bourne, Mino R. Caira, Jonathan Cotton, Umraan Hendricks, Laura C. Peinke and Lee Trollope
CrystEngComm, 2010, Advance Article, DOI: 10.1039/C0CE00043D
Structural and melting point characterisation of six chiral ammonium naphthalene carboxylate salts
Andreas Lemmerer, Susan A. Bourne and Manuel A. Fernandes
CrystEngComm, 2008, 10, 1605-161, DOI: 10.1039/B810068C
Disruption of a robust supramolecular heterosynthon in achiral benzylammonium and (pyridylmethyl)ammonium m-iodobenzoate salts
Andreas Lemmerer, Susan A. Bourne and Manuel A. Fernandes
CrystEngComm, 2008, 10, 1750-1757, DOI: 10.1039/B811789F