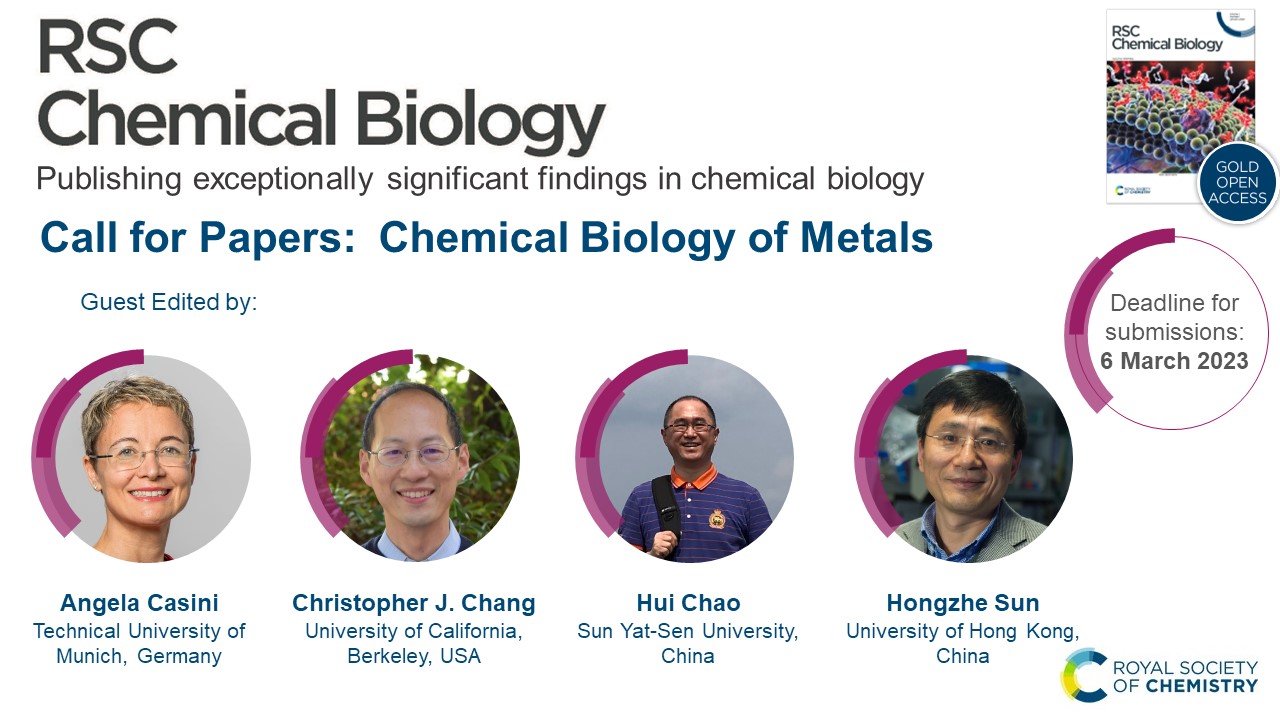 RSC Chemical Biology is delighted to welcome papers for its latest online themed collection on 'Chemical Biology of Metals', guest edited by Christopher J. Chang (University of California, Berkeley, USA); Angela Casini (Technical University of Munich, Germany); Hongzhe Sun (University of Hong Kong, China); and Hui Chao (Sun Yat-Sen University, China).
 Contributions are welcome which investigate the fundamental inorganic chemistry of life and/or use inorganic chemistry for medicine. New chemical methods for sensing and imaging, metalloproteomics, metal-based therapeutics and diagnostics, as well as structural and functional consequences of novel protein and nucleic acid metallobiochemistry in vitro and in living systems, are welcome for this themed collection on emerging topics in chemical biology of metals research.
 The deadline for submissions is 6 March 2023. Submit your work to the collection now!
Promotion of the collection is scheduled for mid-2023, with articles published online as soon as they're accepted.
Authors are welcome to submit original research in the form of a Communication or Full Paper.  Articles can be submitted via our website: rsc.li/rsc-chembio. When submitting your manuscript, please mention that it is intended for this themed collection in the "notes to the editor" box. The Editorial Office reserves the right to check suitability of submissions for both the journal and the scope of the collection, and inclusion of accepted articles in the final themed collection is not guaranteed.
Explore all open calls for papers from RSC journals!
About RSC Chemical Biology:
Led by Hiroaki Suga (University of Tokyo), RSC Chemical Biology is dedicated to publishing and disseminating the most exceptionally significant, breakthrough findings of interest to the chemical biology community. All submissions are handled by our experienced and internationally recognised Associate Editors. For more information on the journal, please visit the journal homepage.
As a gold open access journal, there are no barriers to accessing content and your research article will reach an international audience. Articles accepted for publication in this themed collection will have their article processing charges waived.
RSC Chemical Biology is now indexed in the Directory of Open Access Journals (DOAJ), PubMed Central, Scopus and Web of Science: Emerging Sources Citation Index. Find out more about the journal and submit your work at rsc.li/rsc-chembio.