Issue 1 is online and ready to read
We're pleased to be able to share with you the first full issue of RSC Chemical Biology, our new, gold open access journal showcasing agenda-setting research of interest to the broad chemical biology community. Read issue 1 now
It includes:
Editorial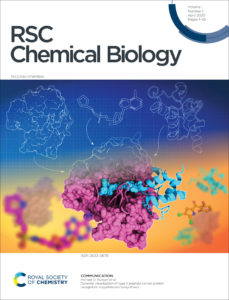 Introduction to RSC Chemical Biology
Hiroaki Suga, Kathryn L. Gempf and Anna Rulka
RSC Chem. Biol., 2020, 1, 6-7. DOI: 10.1039/D0CB90001J
Communication
Dynamic visualization of type II peptidyl carrier protein recognition in pyoluteorin biosynthesis
Joshua C. Corpuz, Larissa M. Podust, Tony D. Davis, Matt J. Jaremko and Michael D. Burkart
RSC Chem. Biol., 2020, 1, 8-12. DOI: 10.1039/C9CB00015A
Paper
A mechanism-inspired UDP-N-acetylglucosamine pyrophosphorylase inhibitor
Olawale G. Raimi, Ramon Hurtado-Guerrero, Vladimir Borodkin, Andrew Ferenbach, Michael D. Urbaniak, Michael A. J. Ferguson and Daan M. F. van Aalten
RSC Chem. Biol., 2020, 1, 13-25. DOI: 10.1039/C9CB00017H
Paper
Macrocyclic peptides that inhibit Wnt signalling via interaction with Wnt3a
Manuel E. Otero-Ramirez, Kyoko Matoba, Emiko Mihara, Toby Passioura, Junichi Takagi and Hiroaki Suga
RSC Chem. Biol., 2020, 1, 26-34. DOI: 10.1039/D0CB00016G
RSC Chemical Biology offers authors a trusted, reliable option for publishing their work open access.
As the first Royal Society of Chemistry journal to offer transparent peer review, authors also have the option to publish reviewers' comments, the editor's decision letter, and authors' response alongside the article. It's part of our commitment to make research and decision-making more open, robust and accessible.
Supporting an open future for vital research
All papers published in the journal will always be free to access. We are waiving article processing charges for the first two years, so until mid-2022 the journal will be completely free to publish in for authors, as well as free to read.
We hope you enjoy reading the exciting research in our first issue!
Keep up with all things chembio: sign up for alerts or follow us on Twitter @rsc_chembio