Today at the RSC we are celebrating International Women's Day 2022 and the fantastic women who have recently published in our journals.
We encourage you to explore some of the excellent work published in RSC Chemical Biology by women so far, and don't forget to browse our whole collection of articles here.
Reviews
Professor Anne-Kathrin Duhme-Klair, University of York, UK:
Artificial imine reductases: developments and future directions
Rosalind L. Booth, Gideon Grogan, Keith S. Wilson and Anne-Kathrin Duhme-Klair
RSC Chem. Biol., 2020, 1, 369-378
DOI: 10.1039/D0CB00113A
Professor Rosa de Lederkremer, University of Buenos Aires, Argentina:
trans-Sialylation: a strategy used to incorporate sialic acid into oligosaccharides
Rosa M. de Lederkremer, María Eugenia Giorgi and Rosalía Agusti
RSC Chem. Biol., 2022, 3, 121-139
DOI: 10.1039/D1CB00176K
Professor Yan Zhang, University of Texas at Austin, USA:
What's all the phos about? Insights into the phosphorylation state of the RNA polymerase II C-terminal domain via mass spectrometry
Blase M. LeBlanc, R. Yvette Moreno, Edwin E. Escobar, Mukesh Kumar Venkat Ramani, Jennifer S. Brodbelt and Yan Zhang
RSC Chem. Biol., 2021, 2, 1084-1095
DOI: 10.1039/D1CB00083G
Communications
Professor Franziska Thomas, University of Heidelberg, Germany:
The CSY-protecting group in the microwave-assisted synthesis of aggregation-prone peptides
Truc Lam Pham, Jennifer Zilke, Christine Charlotte Müller and Franziska Thomas
RSC Chem. Biol., 2022, Advance Article
DOI: 10.1039/D1CB00252J
Dr Katherine Davis, Emory University, USA:
Structural insights into inhibition of the drug target dihydroorotate dehydrogenase by bacterial hydroxyalkylquinolines
Samantha M. Horwitz, Tamra C. Blue, Joseph A. Ambarian, Shotaro Hoshino, Mohammad R. Seyedsayamdost and Katherine M. Davis
RSC Chem. Biol., 2022, Advance Article
DOI: 10.1039/D1CB00255D
Papers
Professor Andrea Rentmeister, University of Munster, Germany:
Computational design and experimental characterization of a photo-controlled mRNA-cap guanine-N7 methyltransferase
Dennis Reichert, Helena Schepers, Julian Simke, Horst Lechner, Wolfgang Dörner, Birte Höcker, Bart Jan Ravoo and Andrea Rentmeister
RSC Chem. Biol., 2021, 2, 1484-1490
DOI: 10.1039/D1CB00109D
Dr Anne Connibear, University of Queensland, Australia:
Site-specific modification and segmental isotope labelling of HMGN1 reveals long-range conformational perturbations caused by posttranslational modifications
Gerhard Niederacher, Debra Urwin, Yasmin Dijkwel, David J. Tremethick, K. Johan Rosengren, Christian F. W. Becker and Anne C. Conibear
RSC Chem. Biol., 2021, 2, 537-550
DOI: 10.1039/D0CB00175A
Dr Clarissa Czekster, University of St Andrews, UK:
Bypassing the requirement for aminoacyl-tRNA by a cyclodipeptide synthase enzyme
Christopher J. Harding, Emmajay Sutherland, Jane G. Hanna, Douglas R. Houston and Clarissa M. Czekster
RSC Chem. Biol., 2021, 2, 230-240
DOI: 10.1039/D0CB00142B
Professor Tia Keyes, Dublin City University, Ireland:
Ru(II)/BODIPY core co-encapsulated ratiometric nanotools for intracellular O2 sensing in live cancer cells
Karmel Sofia Gkika, Anna Kargaard, Christopher S. Burke, Ciaran Dolan, Andreas Heise and Tia E. Keyes
RSC Chem. Biol., 2021, 2, 1520-1533
DOI: 10.1039/D1CB00102G
We hope you enjoy reading these articles!
---
Contact us:  chembio-rsc@rsc.org
Visit our website – rsc.li/rsc-chembio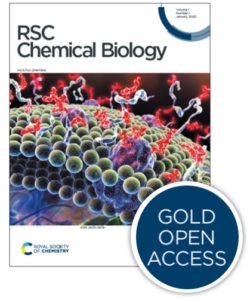 RSC Chemical Biology is an international gold open access journal, publishing exceptionally significant findings in chemical biology.
Sign up now to get updates on all articles as they are published on Twitter and in our e-alerts.