The third edition of Green Chemistry: An Introductory Text discusses many topics in the field, including the provision of environmentally benign products from sustainable resources, legislation, renewable resources, catalysi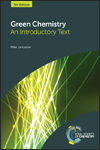 s in green chemistry, and some industrial case studies. This book is aimed at undergraduate and postgraduate courses covering green chemistry, and is written by Mike Lancaster, who set up the Royal Society of Chemistry Green Chemistry Network and has more than 20 years' experience in the chemical industry.
Also of interest, the Royal Society of Chemistry Green Chemistry Journal is honouring the 25th anniversary of the term "green chemistry" by publishing an editorial each month in the year 2016 focusing on one of the twelve principles of green chemistry. Read the latest edition of our Green Chemistry Journal here.
You may find other books of interest in our Green Chemistry Series, including: