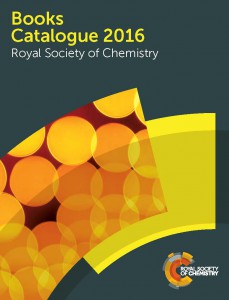 Highlights for the year (and where to find them):
Explore the new RSC Chemical Biology Series, find out what we're adding to the Green Chemistry, Drug Discovery and Issues in Toxicology series, and view the latest popular science titles in the Books Catalogue 2016.
Request free inspection copies of student-friendly textbooks, full of subject-specific information, and find out more about new editions such as Food: The Chemistry of its Components 6th edition in our Textbook and course materials catalogue.
Browse textbooks, series volumes and reference titles including our acclaimed Drug Discovery Series, or order McCance & Widdowson's The Composition of Foods (7th summary edition) and Molecular Biology and Biotechnology 6th edition through the Life Sciences books catalogue.
From professional reference to popular science
Developed to provide a broad choice of highly relevant content, we now have more than 1,500 print and over 1,300 eBooks to choose from in our portfolio. This includes additions to current Series, new editions of classic textbooks and some great new titles that put chemistry into the context of daily life.
High quality, highly relevant, with options to suit your budget
Print books
From cutting-edge reference works to proceedings of our popular Faraday Discussions, our print books are available as series, subject sets and individual titles.
eBook collections
Available by year or subject, and divided into 11 key areas from analytical to physical chemistry, our eBook Collection includes professional reference titles, specialist periodical reports and special publications.
eBook Pick and Choose
If you're looking for something a little more flexible, this model allows you to choose a package to suit your library from the eBook Collection. With a minimum spend of £1,000, it's ideal for smaller institutions.
Can we help you find something?
For more information about our portfolio, please get in touch. Print copies of our Books Catalogue are also available – please contact us with your mailing address if you would like one.