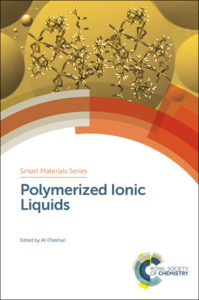 With the publication of Polymerized Ionic Liquids edited by Ali Eftekhari, the Smart Materials Series sees the milestone publication of 30 books in the series.
Led by Series Editors Hans-Jorg Schneider and Mohsen Shahinpoor, the series provides students and researchers with the fundamentals and applications of different smart materials from renowned international experts.
Since the publication of its first book in 2012 on Janus particles, the series has gone on to cover hot topics from smart materials for drug delivery and tissue engineering to opto-electronics and environmental applications.
Books in the series include:
Materials Design Inspired by Nature: Function Through Inner Architecture edited by Peter Fratzl, John Dunlop, and Richard Weinkamer, Max Planck Institute, Germany (ISBN 978-1-84973-553-7, 2013)
Responsive Photonic Nanostructures: Smart Nanoscale Optical Materials edited by Yadong Yin, University of California Riverside, USA (ISBN 978-1-84973-653-4, 2013)
Self-cleaning Coatings edited by Junhui He, Technical Institute of Physics and Chemistry, Chinese Academy of Sciences, China (ISBN 978-1-78262-286-4, 2016)
View all 30 titles in the Smart Materials Series.
Don't forget you can freely access the table of contents, preface, front matter and first chapter of every eBook in the series.
If you have an idea for a book in the series or just want to know more then please contact Commissioning Editor Leanne Marle.