NMR spectroscopy is a remarkable and invaluable tool with diverse applications from within food science to pharmaceutical research. With over 17,000 articles concerning NMR published per year, keeping up to date with the latest developments and applications of this technique can prove time-consuming. Now in its 42nd volume, the Specialist Periodical Report on NMR provides a digest of the current literature, compiled by experts in the field.
Further adding to the literature in this field, the second book in the RSC New Developments in NMR has just been published.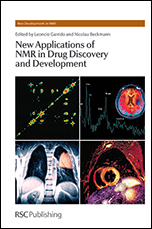 Starting with a Preface by the Nobel Prize winner Richard R Ernst, ETH Zurich he says 'New Applications of NMR in Drug Discovery and Development represents an important addition to the bookshelf of anybody seriously interested in drug discovery and development.  It will remain a reliable source of information in this important field for many years to come.'
This volume demonstrates the enormous breadth of MRI applications in biomedicine which becomes even more impressive when you realise that biomedicine is only one of the fields benefitting from the application of magnetic resonance spectroscopy.  Other recently published books from the RSC in this area include  NMR Spectroscopy in Food Analysis authored by Apostolos Spyros and Photis Dais from the University of Crete  and Recent Developments in Biomolecular NMR edited by Marius Clore, NIH, Maryland, USA and Jennifer Potts, University of York, UK.
The RSC will be attending the SCIX meeting in Milwaukee, Wisconson from 29 September to 4 October so look out for us there and take a look at our comprehensive selection of titles that will keep you up to date with the latest developments in this exciting field!