The Royal Society of Chemistry has recently launched a new book Series called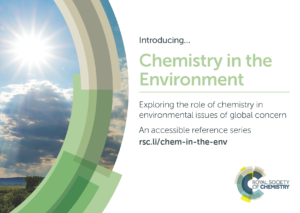 Chemistry in the Environment.
With environmental issues of increasing global concern to both the public and governments, there is growing interest in scientific research that will allow us to predict, prevent and resolve environmental problems. This Series will deliver up-to-date and critical perspectives on the fate, behaviour and interactions of chemicals and pollutants (both natural and man-made) in the environment.
Editor-in-chief
Dionysios Dionysiou, University of Cinncinnati, USA
Series Editors
Rajasekhar Balasubramanian, National University of Singapore, Singapore
Rafael Luque, University of Cordoba, Spain
Triantafyllos Kaloudis, EYDAP (The Athens Water Supply and Sewerage Company), Greece
We are actively seeking new proposals. If you have ever considered writing or editing a book, or you have a good idea for a topic we should cover, please get in touch with either myself (email armesh@rsc.org) or one of the Series Editors. You can read more about our publishing process and how to propose a book to us on our website.