Books review: Crime Scene to Court (Fourth Edition)
Edited by Peter White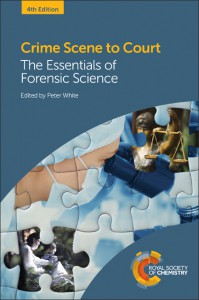 RSC Publishing | 2016 | 680pp | £37.99 (PB) | ISBN 978-1-78262-446-2
Reviewed by Dr Alan Greenwood, Coventry University, United Kingdom
'Crime Scene to Court – The Essentials of Forensic Science' has been essential reading for forensic science students for a number of years. As with previous iterations of this book, this fourth edition approaches subjects in a progressive, user-friendly way that should appeal to those with both a scientific and non- scientific background. As the title suggests, the reader is taken through the investigative process from the examination of the crime scene, through to the analysis of various evidence types, and then finally to the presentation of evidence in court by an expert witness.
This fourth edition considers a range of evidence types, from traditional ones such as marks evidence, toxicology and trace evidence, to less traditional examples like forensic ecology. Unlike some forensic texts, each evidence type is written by experts in that particular field, who skilfully present their practitioner knowledge and experience with clarity. This new edition also includes chapters on 'Identifying the Individual' and 'Digital Forensics'. The former predominately considers finger-mark evidence, and includes sections on cognitive bias and biometrics. With Digital Forensics expertly covering a range of topics including privacy laws, hacking, and the issues related to inspecting seized computers. As the digital world continues to develop, digital forensics is becoming increasingly more important within the criminal justice system, therefore its inclusion in this book should be applauded.
The use of colour images in this edition greatly supports the readers understanding. For example their use in bloodstain pattern analysis allows clear comprehension of the directionality component of blood patterns, something that could be difficult in previous editions. In addition, the fact that most of the contributing authors are UK based should appeal to those with specific interest in how forensic science is applied within the UK legal framework – UK based students for example.
In conclusion, this is an excellent book which I wholeheartedly recommend to anyone with an interest in forensic science, from the experienced practitioner to the curious layman.
Crime Scene to Court (Fourth Edition) can be purchased here.