The RSC Polymer Chemistry Series are celebrating the publication of 20 books in the series with the publication of Polymers for Personal Care Products and Cosmetics by Xian Jun Loh, Institute of Materials Research and Engineering, Singapore.
With contributions from leading international experts, each book in the series covers key themes in polymer chemistry research providing the perfect introduction for graduate students and researchers.
Series Editor-in-chief Ben Zhong Tang, Hong Kong University of Science and Technology, says "our series has published books over a wide variety of important topics in the area of polymer research, from fundamental studies to practical techniques, benefiting a large spectrum of audience. The success is due to the enthusiastic support of our editors and authors. I must thank the editorial staff of Royal Society of Chemistry, especially Leanne Marle, for their very professional assistance over the years."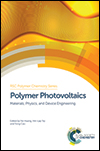 Titles in the series include:
Polymer Photovoltaics: Materials, Physics, and Device Engineering edited by Fei Huang, Hin-Lap Yip and Yong Cao
Cationic Polymers in Regenerative Medicine edited by Sangram Samal and Peter Dubruel
Conjugated Polymers: A Practical Guide to Synthesis edited by Klaus Müllen, John R Reynolds and Toshio Masuda
Thiol-X Chemistries in Polymer and Materials Science edited by Andrew Lowe and Christopher Bowman
Fundamentals of Controlled/Living Radical Polymerization edited by Nicolay V Tsarevsky and Brent S Sumerlin
View all 20 titles in the RSC Polymer Chemistry Series.
Don't forget you can read the table of contents, preface, front matter and first chapter of the eBooks in the series for free.
If you have an idea for a book in the series or just want to know more then please contact Commissioning Editor Leanne Marle.