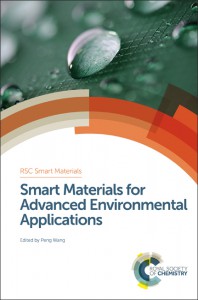 With the publication of Smart Materials for Advanced Environmental Applications edited by Peng Wang, we celebrate publishing 20 books in the RSC Smart Materials series.
Led by Series Editors Hans-Jorg Schneider, Universität des Saarlandes, Germany and  Mohsen Shahinpoor, University of Maine, USA, the series covers the fundamentals and applications of different functional material systems from renowned international experts. The first book in the series was published in 2012 on Janus Particle Synthesis, Self-Assembly and Applications edited by Shan Jiang and Steve Granick, since then the series has continued to cover key topics such as opto-electronics, smart materials for drug delivery and chemoresponsive materials.
Titles include:
Conducting Polymers: Bioinspired Intelligent Materials and Devices by Toribio Fernandez Otero
Semiconductor Nanowires edited by Wei Lu and Jie Xiang
Responsive Photonic Nanostructures edited by Yadong Yin
Materials Design Inspired by Nature edited by Peter Fratzl, John W.C. Dunlop, Richard Weinkamer
View all 20 titles in the RSC Smart Materials series.
Don't forget you can freely access the table of contents, preface, front matter and first chapter of every eBook in the Series via the RSC Publishing website.
If you have an idea for a book in the series or just want to know more then please contact Commissioning Editor Leanne Marle.
Also of interest:
A new textbook on Stimuli-Responsive Materials by Marek W Urban – coming soon!